Action for Brain Injury Week
This week (15 – 21 May) marks Action for Brain Injury Week, a campaign dedicated to raising awareness of the impacts of brain injury. To do this, we have been sharing a week in the life of a young person on a neurorehabilitation placement here at The Children's Trust.
Thirteen-year-old Riley had a rare type of aneurysm on New Year's Day 2023. He went through numerous emergency brain surgeries and experienced multiple seizures. His brain injury left him unable to move or speak, and his future recovery unclear.
He spent five weeks at Great Ormond Street Hospital before arriving at The Children's Trust for a twelve-week residential rehabilitation placement. Since then, he has been working hard to achieve his goals and has made incredible progress in the ten weeks that he has been here.

Effects of a brain injury
A young person recovering from a brain injury will often have challenges with movement, fatigue and sensory processing. They may have to re-establish pathways from the brain to control movement and strengthen muscles that may have weakened during lengthy hospital stays.
And young people with brain injury have more to work on than purely physical challenges. They may also experience cognitive difficulties such as memory loss, short attention span, speech and communication difficulties and lack of awareness.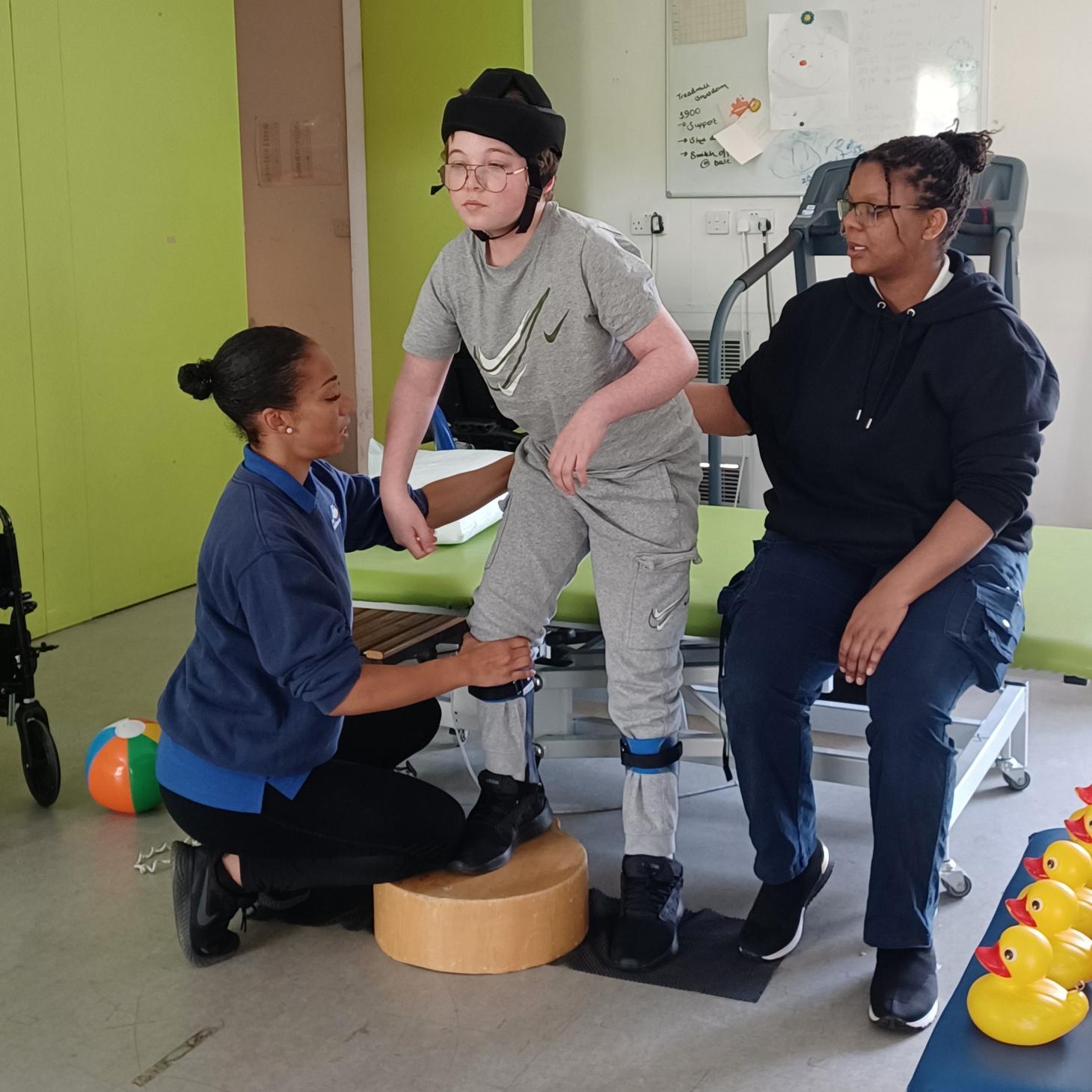 Rehabilitation programme
The multi-disciplinary team work with each child to set their own goals, and our skilled teams organise sessions to achieve these across a weekly timetable.

Physiotherapy is the most important one for me. I want to be able to walk again and get some use out of my left arm again.
To work to achieve his goal of walking independently, Riley has physiotherapy and occupational therapy sessions twice a day where he works on his mobility. 
His timetable also includes hydrotherapy once a week, where he has access to the therapy pool at The Children's Trust rehabilitation centre. He also attends school sessions every day and takes part in sports and baking groups. He has time with assistive technology scheduled in, as well as time for rest and recreation.

 Individualised therapy sessions
We joined Riley at the beginning of the week for a physiotherapy session. His exercises included standing, squatting, throwing and walking. At the end of the session, Riley's physiotherapist Rachel set him the challenge of climbing and descending the stairs, and he amazed himself and everyone else by rising to the challenge! This was huge for Riley, who hasn't been able to use the stairs since his aneurysm five months ago.
I'm actually doing this!

Group therapy sessions
As well as individualised therapy sessions, Riley's timetable also includes sports and baking group.
We joined Riley, and a group of young people here for rehabilitation, for his baking session. The group was tasked with making pancakes, which involved communication to work together, decision making when choosing a recipe, and memory recall as they followed the steps.
Riley also had to work hard to stand up to whisk the mixture and fry the pancakes. These tasks worked on his balance and arm strength, for which he was rewarded with a lunch of yummy pancakes!
Take a look at our Facebook and Instagram for the full account of the week.

Show your support for ABI Week
Every year, 40,000 children in the UK are left with a brain injury as a result of an accident or illness, with many not able to access the support they desperately need.
There are many ways that you can help The Children's Trust support children affected by brain injury and neurodisability. You can get involved by making a donation, attending an event or shopping in one of our charity shops.
See some of the ways that you can make a difference: thechildrenstrust.org.uk/abi-week