Elaine Paige and the young voices of The Children's Trust Sing a Rainbow
Our Ambassador, singer, actress and BBC Radio 2 presenter, Elaine Paige OBE, has recorded a special charity single, a cover of 'Sing a Rainbow,' in support of The Children's Trust, a charity she has been an ambassador for almost 40 years.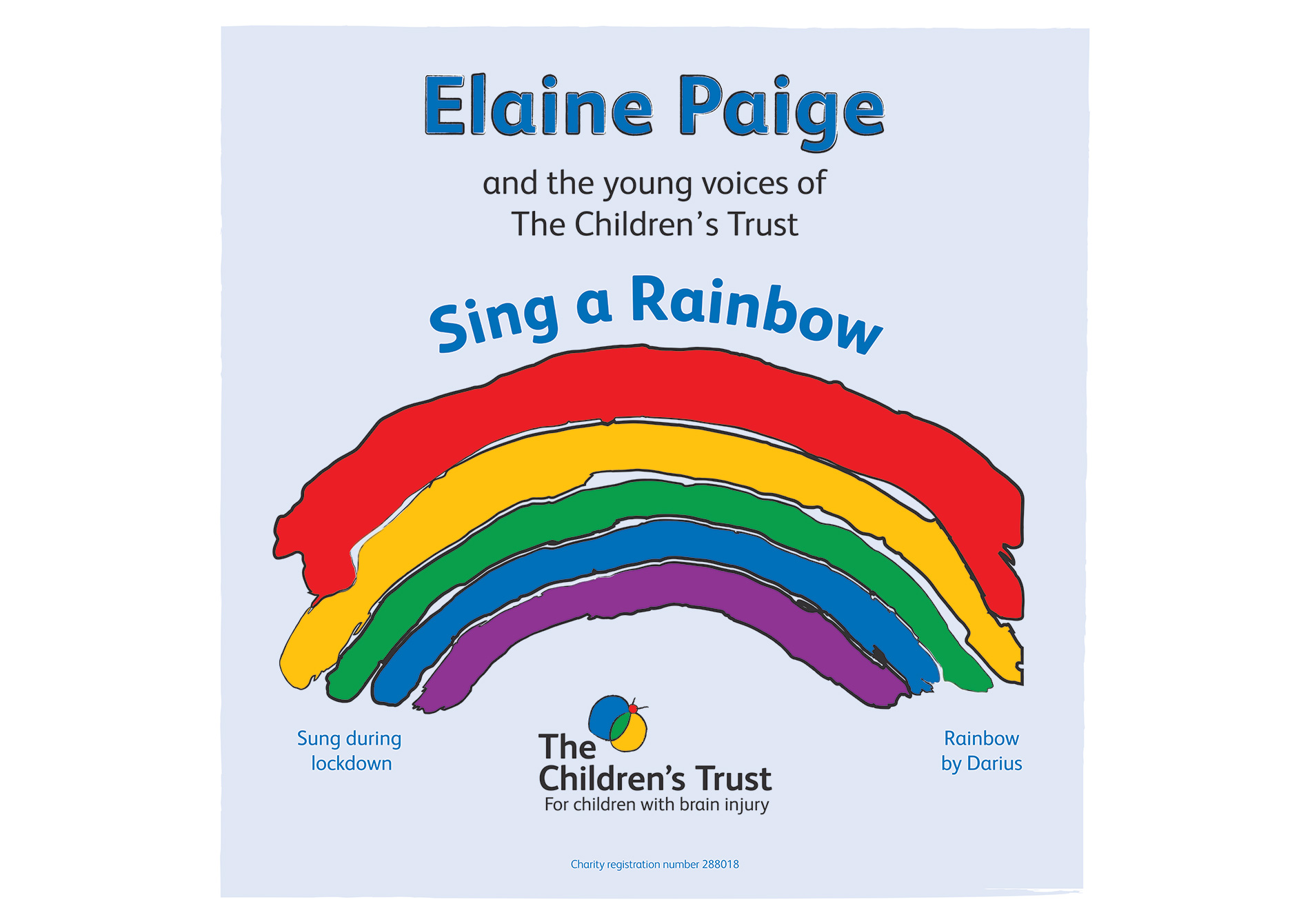 Elaine knows first-hand that the charity has faced one of the toughest challenges in its history. The Children's Trust helps children with brain injury and neurodisability across the UK, and the COVID-19 crisis has meant that funding has depleted whilst its doctors, nurses, care staff and therapists work harder than ever to protect the children in its care. And the work does not stop; the vulnerability of the children means they will continue to be shielded and isolated long after the rest of the UK starts to emerge from lockdown and for many of them this means being able to see their family of friends.
Having worked with us on projects that highlight the uplifting power of music, Elaine wanted to do something with this to help ensure the charity could continue its vital services and help even more children. Elaine has been hosting virtual singalong sessions with some of the children who have to spend all day shielding in order to keep them safe, and will continue to do so even as lockdown measures start to ease of the rest of the country. In fact, voices of the children supported by the charity are included on the Sing a Rainbow single.
Since this crisis began, I have wanted to do something to help. Yet you feel so powerless to really do anything when you are isolating. This is something small that I can do. I have recorded the song with the children on video call and mobile phones, which has been great fun! We can't wait to share it. I am very proud to have been able to record this song for a charity I love while in lockdown.

Sing a Rainbow felt like the perfect song as some of the children are unable to speak so they have been learning the signs of the colours. The children have been showing me their wonderful pictures of rainbows which have really touched the hearts of everyone. Children all over the country started to draw rainbows as a symbol of hope during the early days of the crisis. They are so wonderful, positive and resilient - the very heart of our future. The children and young people I met at The Children's Trust have had to stay shielding in order to stay safe, and some haven't seen their parents in weeks. They are so brave.

Charities including The Children's Trust has been quietly stepping up to support the NHS, often with staff putting the needs of the people they support before their own. They are unseen heroes and I think they are all fantastic.

- Elaine Paige, The Children's Trust Ambassador