Last updated on 15/06/2021
If you have a question about our redevelopment plans, please do not hesitate to email [email protected] 
Q: Why do you need this redevelopment?
A: It is thanks to the support of thousands of people, including our local community, that we have been supporting children with brain injury and neurodisability since 1984. Children who have complex education, health, therapy and care needs, and some with life-threatening conditions that require specialist medical supervision. 
Our current school building is now nearly 35 years old and in urgent need of modernisation. Increased advances in technologies and specialist resource and equipment and new innovative therapy practices are just not possible within our existing building; the internal corridors, and classrooms overcrowded; the ceiling height cannot accommodate specific technology and therapies which would make a life-changing difference to the children. We are also unable to make use of outdoor space an important part of a child's learning and development.
The current building also limits our ability to support more children with ABI and neurodisability in urgent need of our help. None of us know what could be around the corner and the need for our services could be required by any one of us – our family, our friends – our children. If needed, we would all want access to the best possible support. 

Q: What are you changing?
A: The new building will cover the footprint of the existing building and make much better use of the space around it. The new design allows us to take a 24-7 combined approach to a child's education, health, therapy and care, making their time more meaningful. It will take on more of a campus style and approach to encourage better journeys across the site and between the existing buildings.
We are not changing the physical footprint, it is within our boundary, but the different areas where children learn, have therapy and play will be better connected. 
Q: How long will it take and when will it happen? 
A: We will be making our planning submission in July 2021, and we anticipate that the building works will take around 18 months. We estimate that the earliest we would start building work would be July 2022. 
Q: Are there any alternatives to a new build? 
A: We could refurbish the existing building and work around its limitations. However, this would be a false economy, wasting public money and, provide a short term 'sticking plaster'. The children would be the ones to lose in the long run. Technology and therapy have advanced and will continue to advance. To give them the best opportunity to learn, grow and develop, we need to be able to provide the right tools, but we need the facilities to be able to do so.
Q: What difference will it make?
A: We will be creating a National Centre of Excellence. Learning experiences will happen in all locations whether on the nature trail, in sensory gardens or flexible classrooms – and available to all children and families, whether they are with us for rehabilitation, education or to access specific services as outpatients. Everything the child does from the moment they wake will support their learning development or therapy goals, and because it will be built into their daily activities, children won't even realise they are still learning. 
The building will be designed flexibly to accommodate the different needs of the child at different times and create other spaces for families to be together. A family centre on site could be more than simply a support hub or a safe space to share experiences. It could evolve to enable families to learn the skills they will need to care for their child at home, to understand the practical implications of their child's health, education, care or therapy needs and to allow families who have never lived with their children to spend time together, knowing that support is there should they need it. 
Working in a physically responsive environment will support children, families, and professional teams to work, teach, and learn within a specialist facility. Its location will link the site and enable it to be a shared resource both by The Children's Trust and the wider local community.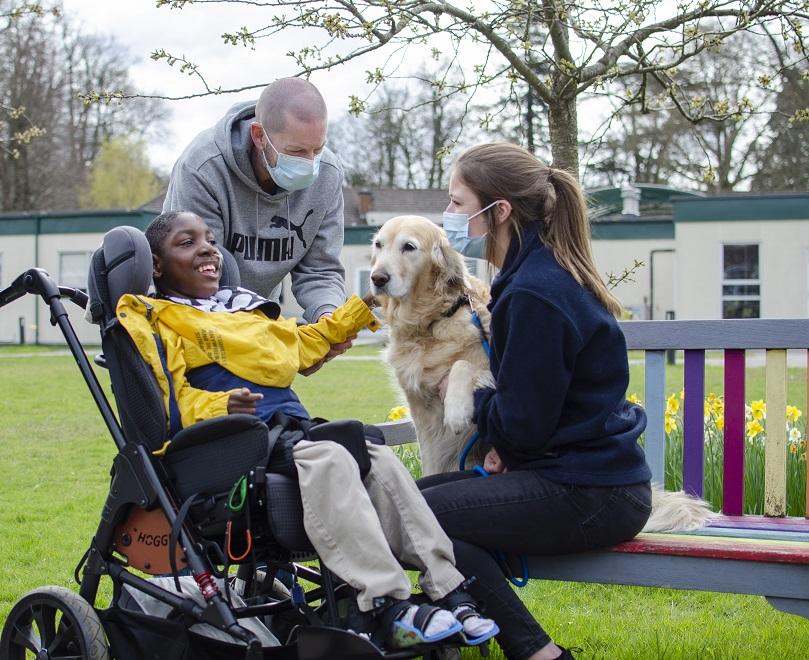 Pictured: a young person at The Children's Trust School and staff receive a visit from a therapy dog.
Q: Will the plans impact on residents' boundaries, particularly near the rear entrance to The Children's Trust?  
A: The new building will be located within the heart of The Children's Trust site. It will replace the existing building currently inhabited by The Children's Trust School and will not impact on any residential boundaries, nor the rear of the site.  
The detail of the site and the adjacent buildings can be seen on page 6 of the presentation. During construction, there is a provisional plan to use the area known on site as "The Wilderness" which will be used as the base for contractors. This area is a wooded area to the northern edge of The Children's Trust which runs adjacent to the A217.  
Q: Will the refuse area near the rear of the site be moved?  
A: At present there are no plans to move the refuse area at the rear of the site.  
Q: How many storeys will the building be?  
A: There are 4 blocks proposed within the building, all connected by a shared covered space. The building itself will be single storey, except for one block which will be double story. Pages 18 and 19 of the presentation show the sectional views of the site with all the buildings being lower than both the surrounding trees and the mansion house located at the front entrance of the site.  
Q: How will it affect the residents of Tadworth Park?  
What are the plans for additional traffic, parking requirements and noise implications?  
Will construction traffic be directed through Tadworth Park / the residential areas?  
Have current concerns over use of service road been considered with level of traffic and noise? 
Will staff still be able to adequately park on site during construction? 
A: We would hope that there will be minimal impact to residents of Tadworth Park and indeed the children who live at The Children's Trust. The site is a home to many of the children we support, 365 days a year, so we will always have their needs in mind.  
The Children's Trust and the project team are committed to ensuring noise and pollution impacts within and beyond Tadworth Court are properly managed and a competent construction contractor registered with the Considerate Constructors Scheme, will be appointed.  
Noise and dust control measures will be put in place to control noise and dust from construction – this important for all our community. We have decided that construction traffic will enter the site through the front entrance, preferably after coming from the A217. This will avoid construction vehicles going through the residential streets. The arrivals of construction materials will also be carefully coordinated to limit the impact on the surrounding roads and any work that is audible beyond the site boundary will be carried out within time frames prescribed by the Council. 
In terms of parking, we are already taking action to reduce the numbers of cars coming on site, thereby reducing the need for staff to park in nearby roads. This includes continuing to encourage home-working, investing in alternative methods of transports, such as cycle to work schemes and when safe again, car-sharing. We are also looking into arrangements for separate provision for off-site parking - such as park and ride schemes - which we have used in the past when holding events on site.  
Q: How long will it take to complete?  
A: Based on our current programme, mobilisation will start in July 2022, with work starting on site in August 2022. We anticipate a construction duration of 18 months with an estimated completion date of January 2024.  
Q: How many trees will be removed or replaced? 
A: In June 2020 a tree survey for the site was carried out. The vast majority of trees within the site are covered by Tree Preservation Orders. Within the new build areas there were 47 trees surveyed and categorised to define their quality and longevity:  
The survey found that there were:  
8 Trees of good condition, with a potential life-span 40+ years. 
22 Trees of moderate condition with a potential life-span 20+ years. 

14 Trees of poor condition with potential life-space 10+ years. 

3 Trees that cannot be retained for more than ten years. 
There are 10 trees which will be removed – each from the categories of those in poor condition or cannot be retained for more than ten years.  
There will be a number of new trees planted to replace these and the site has a landscape strategy outline on pages 21-25 of the presentation.  
The proposed new trees and horticulture will be selected based on their suitability, size and seasonal/sensory interest and all proposals will be coordinated closely with the arboricultural consultant and ecologist. 
Q: How are we hoping to fund this new facility?  
A: The project budget is in the region of £13m. Our Board of Trustees have committed £4m from our capital programme over the next four years. We are currently working with some of our existing supporters who are interested in providing investment and we are planning a fundraising appeal to raise the addition £9m. We would welcome all support, ideas and suggestions so if you would like to contribute please do email us at [email protected]  
Q: Can you describe the enhanced family areas?  
A: We want to provide more space for families to be together with their children, whether they live here and attend our school or whether they are here for rehabilitation following a brain injury. We will be repurposing an existing building to create a centre specifically for families – this will include a lounge area, a kitchen/dining area, TV/gaming room for siblings to be together and a quiet room for reflection. The new building itself will also have more space and better facilities for families, children and carers to learn together. 
Q: Will you have to erect temporary buildings to keep the school running? 
A: We are developing our plans currently and may need to have temporary buildings in place. We are committed to minimising the changes and impact for the children we support so are exploring many different options.  
Q: Will the WI and arts society still be able to use the house?  
A: We hope to be able to welcome our community and different community groups and societies back to the site and benefit from some of the improvements we'll be making as Covid restrictions are relaxed. The mansion house itself will not be affected by the construction works.  
Q: Will it help more children?
A: Yes, we want to increase our capacity to meet the growing demand from children and families needing specialist care and support. We know that families in Surrey and beyond struggle to get the best education, health, therapy and care for their children, particularly if they have very specialist needs. We know that the number of young people with education, health, therapy and care plans has increased year on year since 2010 and the number of children with complex needs in the immediate vicinity of The Children's Trust, has increased by 37%. Yet many special schools within Surrey are at maximum capacity. If we can increase our capacity, by building a better space, we can help more children with the most complex needs, from both Surrey and the wider community.
Q: How much will it cost?
A: The budget for the building is in the region of £13m and we will be launching a fundraising initiative to raise these additional funds. 
Q: How can I help? 
A: You can help us transform the life chances of children and young people with brain injury and neurodisability. You can donate here or you can talk to someone about making a gift by calling 01737 364 349
If you would like to volunteer your time or you have a question, please email [email protected] 
As a result of your generosity, every day will be filled with learning, growth and joy for every child with neurodisability and family bonds will be stronger, as children and their families successfully navigate their future together.
We will update this with questions and answers regularly. If you have a question, please do not hesitate to email them to [email protected]