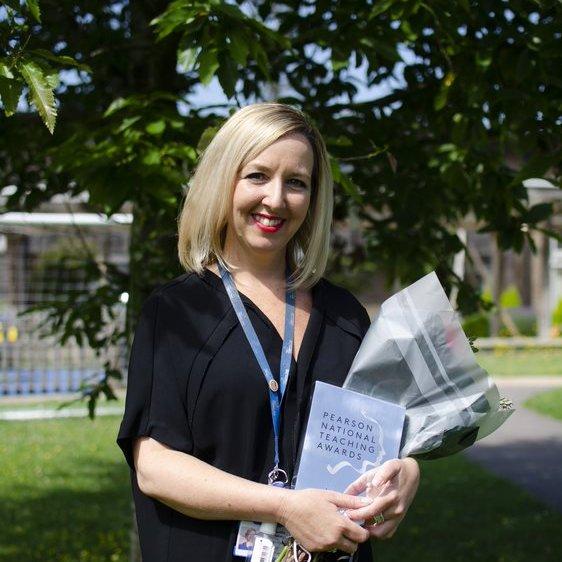 Sam Newton honoured in prestigious UK celebration of teaching
Selected from thousands of nominations, Sam Newton, Director of Education at The Children's Trust School, has been honoured as one of 102 Pearson National Teaching Silver Award winners across the country. 
Sam Newton was honoured with a Silver Award in The Award for Excellence in Special Needs Education for her outstanding commitment to changing the lives of children and young people with brain injury and neurodisability. 
Sam's clear sense of purpose, energy and determination has been fundamental to the success of The Children's Trust School, and the improved quality of life for children and their families. Thanks to Sam's leadership, The Children's Trust School has been praised by OFSTED for "providing children with high-quality individualised care and support." 
By identifying the need for a parent-toddler playgroup, Sam paved the way for the opening of a much-needed school nursery and is also completing a Master's in School Leadership and Management at the National College of Education, demonstrating her commitment to CPD. 
Dalton Leong, Chief Executive of The Children's Trust, comments: "With the global pandemic, the last year has been extremely challenging for all teachers across the country. They've had no choice but to quickly embrace new technologies and develop new ways of teaching. At The Children's Trust School, this has included online lessons and socially-distanced outdoor activities. Sam Newton has demonstrated brilliant tenacity and resilience to lead her team through an unprecedented time, never failing to put the children and their families at the heart of her thinking. This award is a great testament to her continued focus of wanting only the best outcomes for the children and young people we support." 
Sam has now been shortlisted to win one of just 15 Gold Awards later in the year, in a programme which will be broadcast on the BBC. This is a great opportunity to celebrate the exceptional school staff who have worked wonders throughout the pandemic. 
ENDS