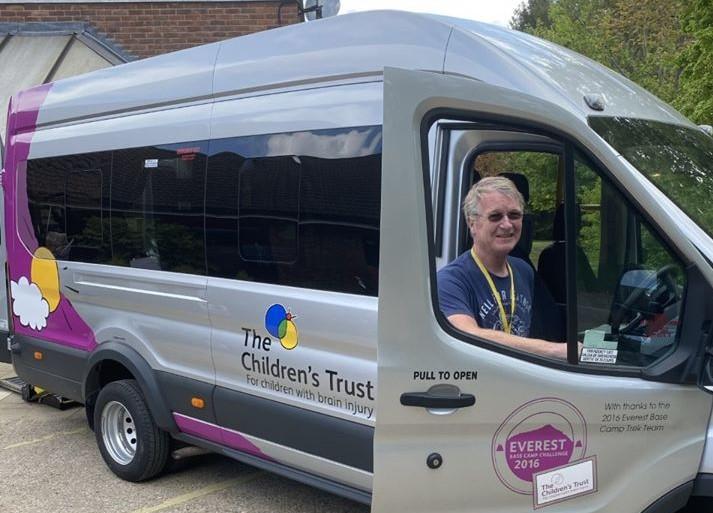 Local volunteer gives back to children with brain injury during coronavirus
This volunteers week (1-7 June), the UK's leading charity for children with brain injury, reflects on the dedication and commitment of its volunteers. One volunteer who is going above and beyond is local volunteer driver, Keith Vickers.
Keith began volunteering for The Children's Trust three years ago and was attracted by the flexibility that being a volunteer driver offered him. With a desire to support his local community during the coronavirus pandemic, Keith has been taking children receiving rehabilitation at The Children's Trust to and from vital hospital appointments.
In addition to helping the children and young people, Keith has also been driving a doctor to The Children's Trust so public transport can be excluded from their daily journey – keeping both the doctor and children safe. The children's wellbeing is always a priority of Keith's, and he even drove an 85-mile trip to Essex on his birthday, to get a young person's wheelchair urgently repaired so they were able to use it later that day.
Clare Foote, a School Nurse at The Children's Trust, says: "Keith is so kind, friendly and professional and always makes the journeys for children so easy. The child he was driving was the most alert and settled I have seen her all week on the journey back from the hospital to The Children's Trust. She even joined in singing a belated happy birthday to Keith! It was a lovely moment".
Keith adds: "Children are not only coping with life-changing brain injury or the ongoing impact of their disability, but they may also be dealing with the lack of close contact and hugs and reassurance from families at this unusual time. Being able to offer them a sense of comfort whilst they attend medical appointments is without doubt the best part of being a volunteer. It makes it all worthwhile."
The Children's Trust, based in Tadworth, Surrey has 1,200 volunteers who help with a huge range of tasks, including gardening, supporting events, working in the charity's shops and in care and educational services. Collectively, over 150,000 hours are dedicated by the volunteers every year.
-ENDS- 
For images or interviews, please contact The Children's Trust press office at [email protected] or call 01737 365865.
 About The Children's Trust Every year 40,000 children in the UK are left with a brain injury as a result of an accident or illness and many have to live with ongoing, long-term difficulties. The Children's Trust gives children and young people with brain injury and neurodisability opportunities to live the best life possible, by providing specialist rehabilitation, education and community services across the UK. www.thechildrenstrust.org.uk
To support The Children's Trust special appeal, visit: https://www.thechildrenstrust.org.uk/other-support