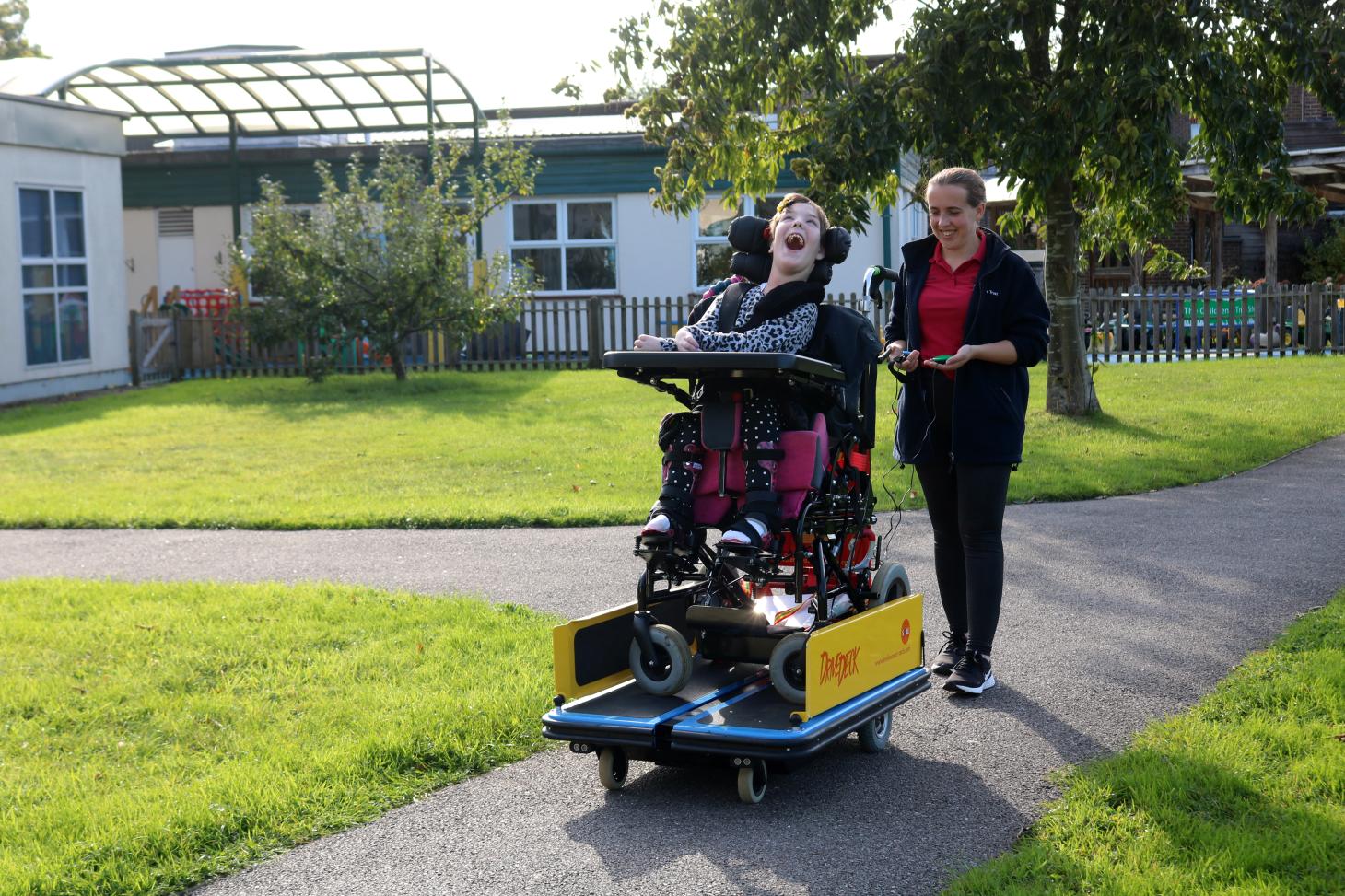 Indy leads the way
12-year-old Indy enjoys taking part in music, art and drama. She has Quadriplegic Cerebral Palsy and is a residential student at The Children's Trust School. For Allied Health Professionals Day, we found out how the team supports Indy's individual needs.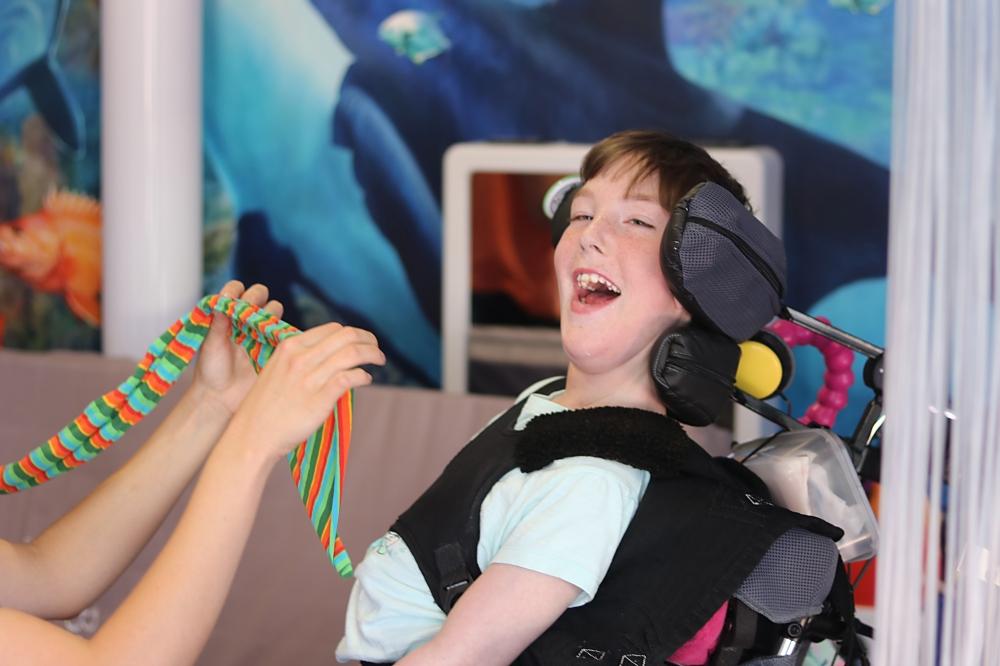 Indy taking part in a dance workshop
Serious about play 
It was a busy summer for Indy, with a ride on an accessible canal boat, taking part in a music workshop and the opportunity to meet and handle small animals such as guinea pigs, hedgehogs and even a bearded dragon! A highlight would have to be exploring the fantastical Colourscape structure, which provided an all-round sensory experience. 
Indy's multi-disciplinary therapy technician was there to support her to ensure she got the most out of the wide range of enrichment activities organised by The Children's Trust play team.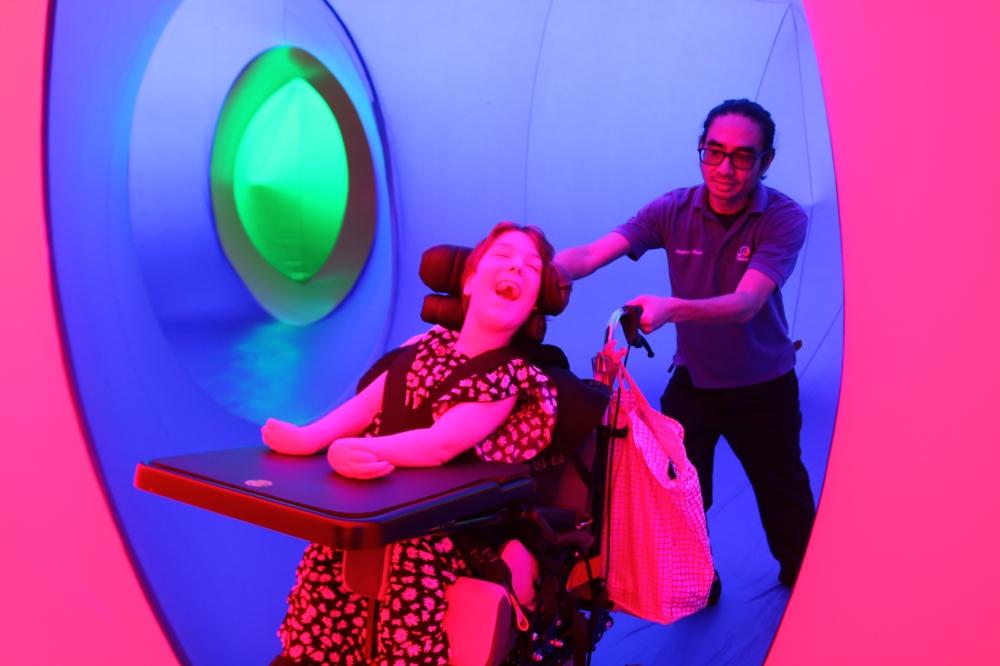 Indy enjoying the Colourscape maze 
Moving independently
Supported by our assistive technology team, Indy is firmly in the driving seat when it comes to moving independently. Using two head switches and a hand switch, she can drive herself from her home to school – while her multi-disciplinary therapy technician does her best to keep up!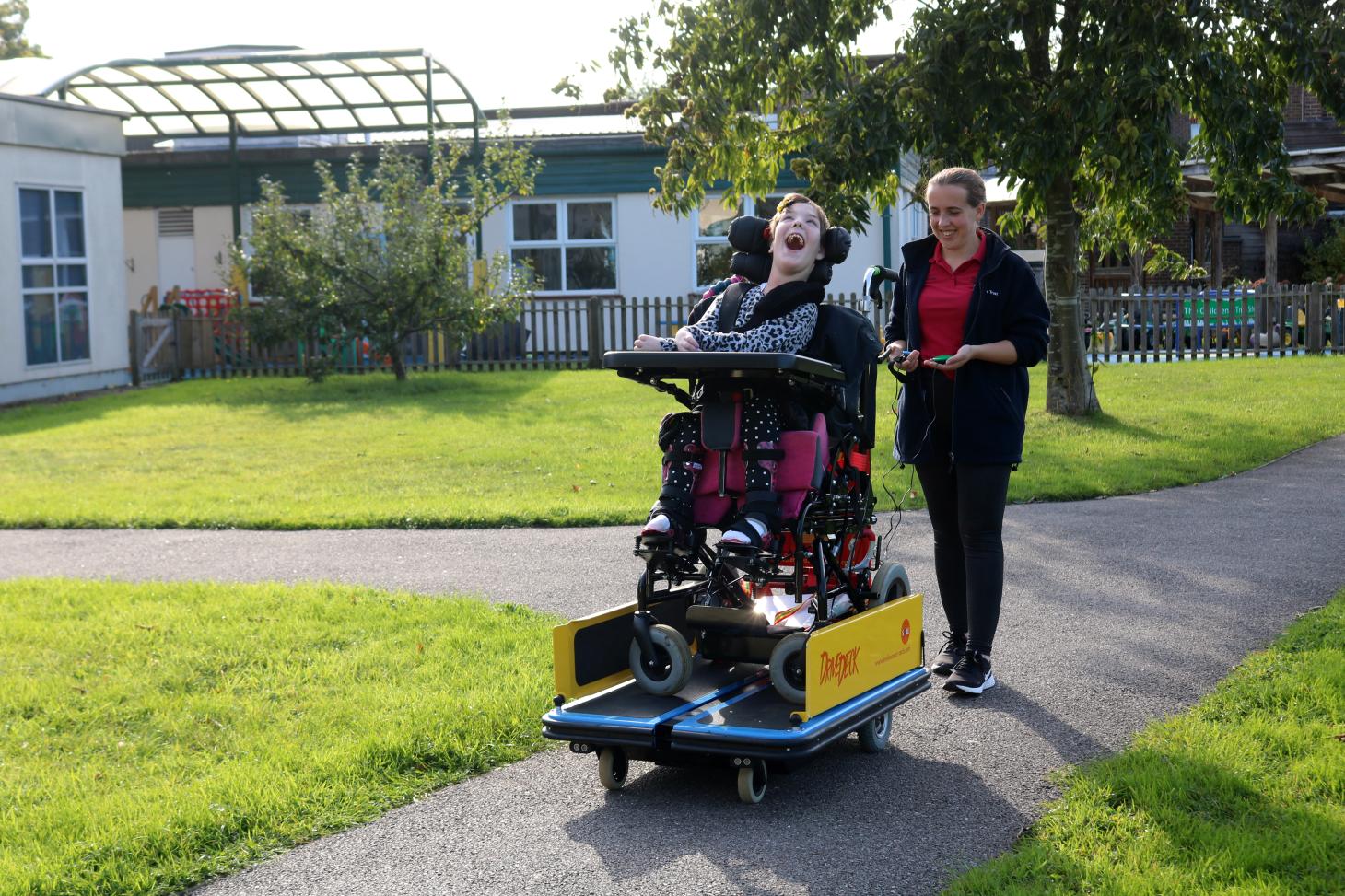 Indy using the Drive Deck
A child-centred approach
Indy also has access to weekly one-to-one music therapy at The Children's Trust School. The music therapists use music to work towards Indy's individual goals, such as developing turn-taking skills, communicating a preferred choice, building confidence and developing awareness of cause and effect.
The therapists make sure the sessions are child-centred and tailored to her needs. Together they use a wide range of approaches allowing Indy to explore improvisation, singing, songwriting, interactive musical play and reflecting mood through music.
As a music-lover Indy also attends group music therapy sessions at The Children's Trust School, which gives her the opportunity to interact with children outside of her class group, focusing on group goals.
Indy in a music session
Creative approaches
The occupational therapists at The Children's Trust work to help Indy overcome challenges in completing everyday tasks or activities (otherwise known as 'occupations'). The team optimise her position to make sure she is comfortable and independent, using equipment such as a bath seat and comfy chair.
Her occupational therapists can also give advice about adaptive clothing and adapting activities so that Indy can participate as independently as possible. 
For example, in Indy's art session, an occupational therapist has designed a pully-system, adapted so that Indy can pull back a pot of paint and let it swing, with paint pouring out onto canvas!
The pully system in action!
Speech and language therapy
The Speech and language therapy team support Indy with communication as well as eating, drinking and swallowing. This increases Indy's autonomy and empowers her make choices through non-verbal communication.
Building strength in the water
Indy regularly takes part in aquatic therapy sessions in the hydrotherapy pool on site at The Children's Trust. The pool has both lights and music which make for a fully engaging, sensory experience. 
Being in the water, supported by her specialist physiotherapists, maximises Indy's mobility as the water supports her weight and working against the resistance of the water helps build strength.
By working together with the multidisciplinary team, Indy's physiotherapists make sure her posture is the best it can be, which minimises the possibility of any pain, respiratory and digestive problems, and risk of fractures.
A relaxing swim in the hydrotherapy pool
Together the Allied Health Professionals at The Children's Trust support children like Indy through child-centred activities and solutions designed to support their individual needs.
Indy's Mum Sasha says: "It is so reassuring to know that we have The Children's Trust family around us. It's changed our lives as well as Indy's. We know that Indy is getting the very best care. She can do things we'd never have imagined – moving around by herself, swimming, learning in class – thanks to specialist care and the incredible team here."