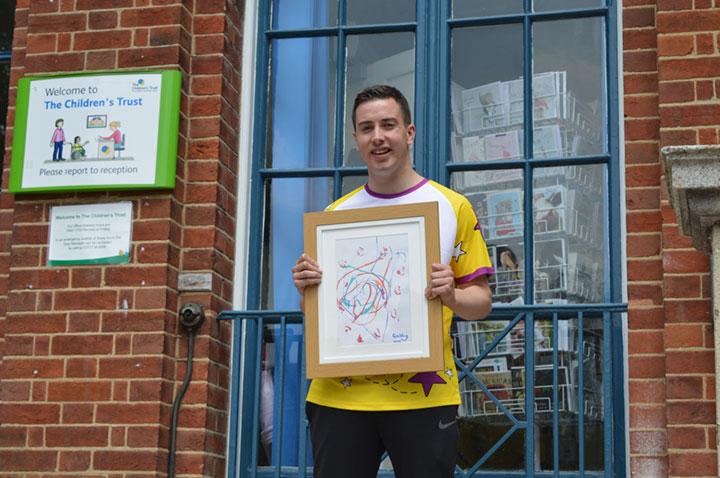 Footballer who learnt to talk and walk again backs Acquired Brain Injury Bill
Charlie Fogarty MBE was 15 when he acquired a severe brain injury as a result of a car accident in 2012.
Now, aged 25, Charlie is showing his support for The Children's Trust, the charity who helped him learn to walk again, by joining them to back the Acquired Brain Injury (ABI) Private Members' Bill.
The Bill, sponsored by Chris Bryant MP, has been created in the hope of committing the government to prepare and publish a strategy to meet the needs of children and adults with an ABI. Over 200 MPs, brain injury survivors and other providers have also signed a letter to the Prime Minister urging him to support the ABI Bill, which will receive its second reading in the House of Commons this Friday 3 December.
Charlie spent six months at The Children's Trust, in Tadworth, Surrey, where he underwent intensive rehabilitation to help him learn to eat, walk and talk again. He finally returned home in February 2013 and from there, he began his inspiring journey to recovery. He's now supporting the ABI Bill in the hope that a comprehensive strategy will be implemented to meet the needs of adults and children with an acquired brain injury, and is urging others to do the same.
The Bill is supported by organisations such as The Children's Trust, UK Acquired Brain Injury Forum, Headway, The Disabilities Trust and Child Brain Injury Trust.
Charlie says: "I know first-hand the challenges faced by people with brain injury every day and how beneficial it would be to know that every child and adult is properly supported following an ABI. I'm supporting this bill and urge you to do the same by contacting your MP!"
Charlie has now used his experiences to deliver motivational talks to everyone from hospital staff to aspiring young footballers. He also set up and became the player-manager of the disability team at Solihull Moors Football Club and played for Northern Ireland at the Cerebral Palsy World Cup.