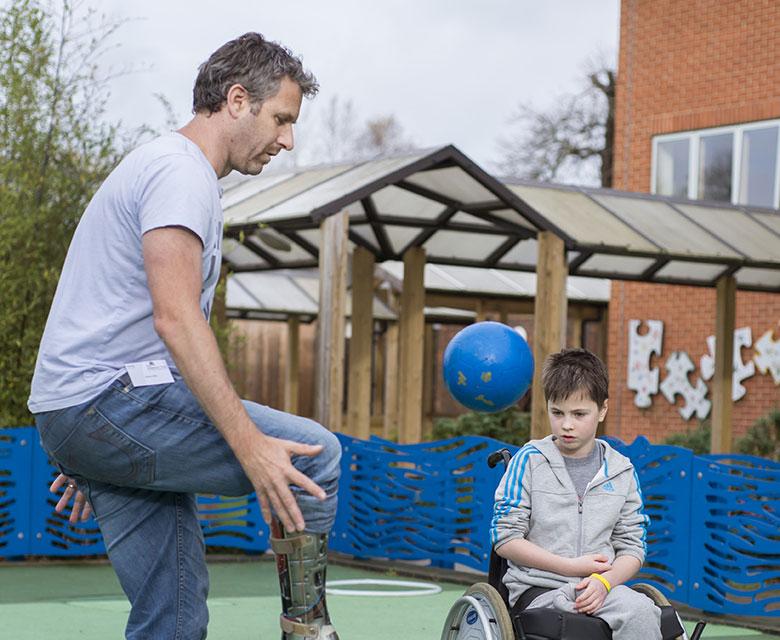 Adam Hills announced as celebrity ambassador for national children's charity
Comedian Adam Hills was today (13 February) named as Ambassador of The Children's Trust, the UK's leading charity for children with brain injury. 
The comic first became involved with The Children's Trust when he visited the charity in 2014 to meet Seb, a nine-year-old boy who had a severe brain injury and leg amputation following a road traffic accident. 
The pair chatted and Adam explained to Seb how he has not been held back by his disability and encouraged Seb to keep up his physiotherapy sessions. He removed his own prosthetic foot to show Seb what it was like, and help him think more positively in order to focus on rehabilitation.
In addition to visiting the charity, Adam has helped to raise over £50,000 for vital therapy equipment by supporting annual comedy shows. Most recently, Adam hosted The Children's Trust Chortle on 3 February and raised £10,700 in one night. 
Commenting on his appointment, Adam Hills said: "It's a pleasure to become an Ambassador for The Children's Trust. I've been lucky enough to see for myself the excellent work the charity does to help children with brain injury and neurodisability. It's a charity close to my heart and I look forward to visiting again soon and helping to raise the profile of their work across the country."
Dalton Leong, Chief Executive of The Children's Trust, said: "We are delighted Adam Hills has accepted our invitation to become an Ambassador. Adam really helped Seb, and many other children, to focus on the positives and not let disability hold them back following their life-changing injuries. We are very grateful for the time and support Adam has already given – and we're looking forward to his next visit to our national specialist centre in Tadworth, when he will put on a show especially for children with brain injury and their families."