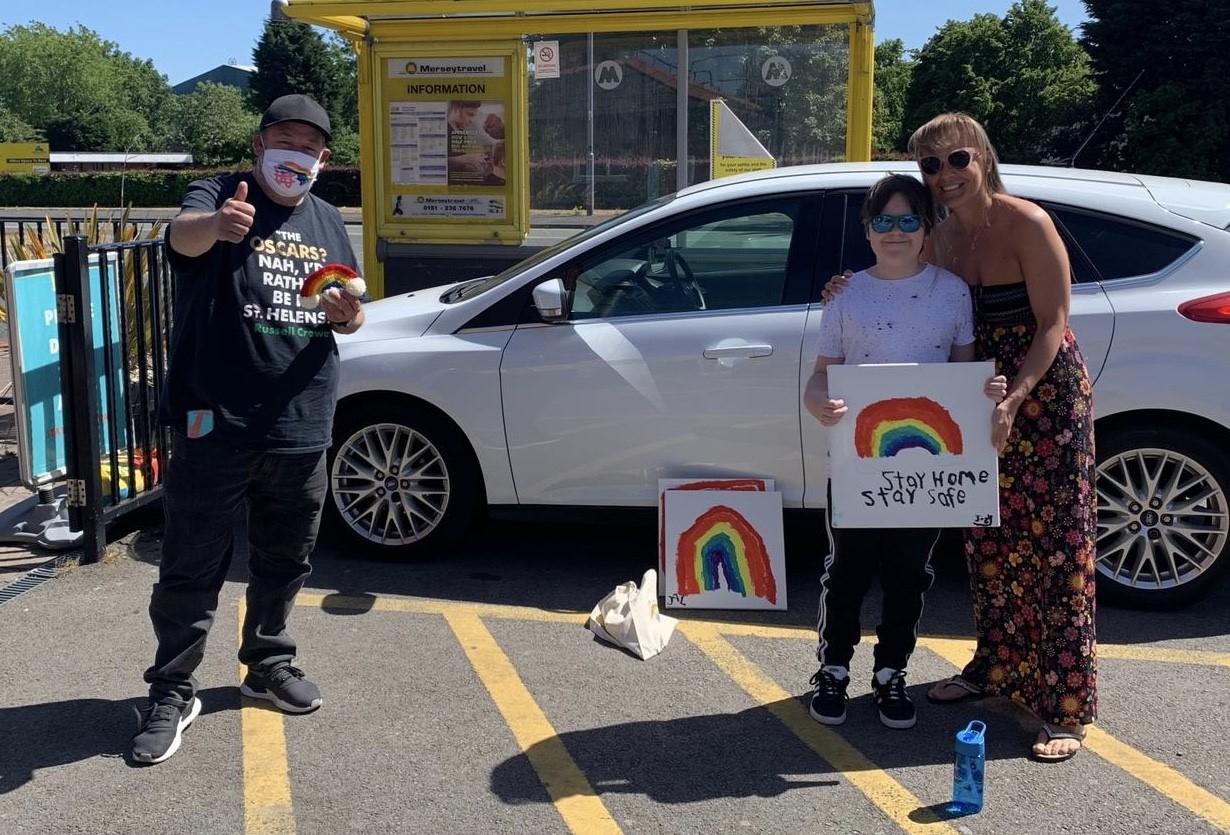 11-year-old Joey auctions art for charity that helped him learn to walk again
11-year-old Joey has raised money for The Children's Trust, the charity that helped him re-learn the skills he lost following a life-threatening brain haemorrhage.
On the 16 November 2018, Joey was at school when he noticed a "strange taste in his mouth". When he went to have a drink of water, Joey discovered he had lost the ability to talk and use his right arm. 
Joey was rushed to his local hospital where scans showed he had a ruptured Arteriovenous Malformation (AVM), a tangle of blood vessels in the brain which bypasses normal brain tissue and directly diverts blood from the arteries to the veins. It's thought to occur in less than one percent of the population. Immediately after receiving the scans, Joey was transferred to Alder Hey Hospital for emergency brain surgery. 
Karen, Joey's mum, says: "When they told me Joey might not make it, it was like I was experiencing an out of body experience. I remember movement going on around me, but I wasn't taking anything in. I was in utter shock and couldn't believe what was happening. When I dropped Joey off at school he was his usual self. It was just a normal day which had quickly turned into my worst nightmare".
Miraculously, Joey survived lifesaving surgery and remained in an induced coma for three days. When he woke, he had lost function in his right side and couldn't walk or talk. He remained in Alder Hey Hospital for four months.
In August 2019, Joey, known to friends and family as 'Joey the legend' arrived at The Children's Trust for a two-month course of intensive rehabilitation. This involved speech and language therapy, occupational therapy, hydrotherapy and physiotherapy.  It was here Joey learnt to draw with his left-hand and walk again. Before Joey's brain injury, his right hand was dominant, and he dreamt of becoming an illustrator.
Now, almost a year on, Joey is keen to give back to The Children's Trust, during one of the charity's toughest challenges. Joey had the idea to paint three rainbow canvases in return for donations to The Children's Trust. He auctioned off three canvases and chose three lucky winners, raising £600 in the process. All the money raised will go the charity's special appeal, to help more children like Joey re-learn the skills they lost following a brain injury.
Much to Joey's surprise, local resident and celebrity, Johnny Vegas, got word of Joey's brilliant fundraising and has asked for an original painting.  In fact, Johnny was so impressed with Joey's art, he even met Joey and his mum for a socially distanced viewing of the canvases in St Helens, Merseyside.
Karen adds: "I'm so proud of Joey. He's had to learn to do everything with his left- hand all over again so painting three canvases with his left hand is amazing progress for Joey.  We've already been through so much the past 15 months; we know we are strong and can get through anything. We just need to take it one day at a time. In the meantime, Joey is working on his canvas for Johnny. I couldn't believe it when he got in touch!"
ENDS
For images or interviews with Karen, please contact The Children's Trust press office on [email protected]/ 01737 365865
About The Children's Trust
 Every year 40,000 children in the UK are left with a brain injury as a result of an accident or illness and many have to live with ongoing, long-term difficulties. The Children's Trust gives children and young people with brain injury and neurodisability opportunities to live the best life possible, by providing specialist rehabilitation, education and community services across the UK. www.thechildrenstrust.org.uk
To support The Children's Trust special appeal, visit: https://www.thechildrenstrust.org.uk/other-support