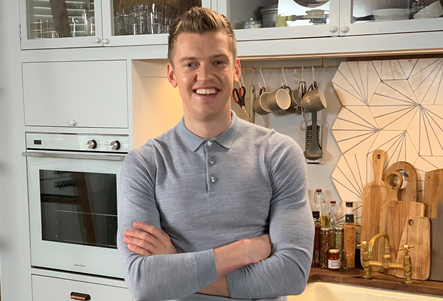 Cook along with Chris!
Wouldn't you love to have a chef in your kitchen talking you through how to make a delightful dish?
As social distancing measures have made going out for dinner difficult Chef Chris Baber has been creating delicious meals that are easy to make at home.
Join M&S chef Chris Baber this Friday 3 July at 6:30pm to learn how to make creamy prawn pasta (see ingredients and equipment list below) over on his Instagram @chrisbaber.
#charitycookwithchris
What do you need? All you need is your device set up to watch live, the ingredients and equipment below. We recommend you prepare the ingredients beforehand.
The event is free but we are suggesting a £10.00 donation or what you might have spent on a meal out. All the money raised will be going towards our special appeal to recover some of the much-needed funds lost during the Covid-19 pandemic.
Make a donation via our Just Giving Page.
Ingredients:
Serves 2 (double up for 4)
200g pasta
2 tbs olive oil
1 large courgette sliced
2 cloves garlic sliced
Salt and pepper
200g raw prawns
1 tbs tomato purée
2 tbs cream creme fresh
1 Tbs grated ginger
Zest of 1 lime
Chilli flakes optional
Preparation: Have a pan of boiling water ready for the pasta. Have everything prepped, chopped and grated with all ingredients laid out ready for cooking.
Equipment:
Large frying pan
Saucepan
Wooden spoon
Chopping board
Knife
Grater
Teaspoon
Tablespoon
Swap: Prawns can be swapped for diced salmon - or simply leave it out for a delicious veggie dish.
Don't miss it: https://www.instagram.com/chrisbaber/?hl=en
If you have any further questions about this event please email: [email protected].