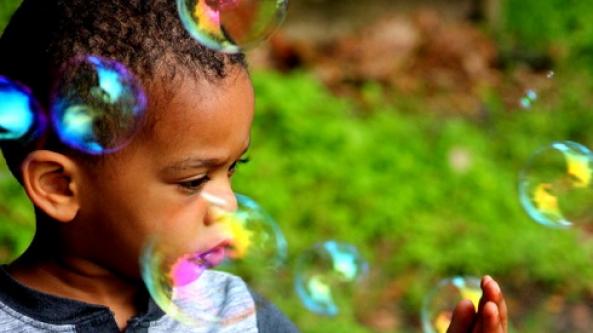 First published: 29/11/2019
Occupational therapists and speech and language therapists at The Children's Trust (TCT) engage children in their therapy in various ways. One way is through play but it's not always possible to use off-the-shelf toys.
Amy, Advanced Practitioner in Assistive Technology at TCT, said: "My job as a therapist is to help find toys that children and young people are motivated by and can work themselves as much as possible!
"We know that the outcomes are best for children and young people with acquired brain injury when the rehab activities follow their own interests. Adapted toys can help break down barriers related to physical or cognitive difficulties and enable them to play as independently as possible."
Amy recommends the following toys:  
Bubble machines
What child doesn't like bubbles?! This machine has been adapted to be operated with an accessible switch. Bubbles can help develop focus and social interaction. Using an accessible bubble machine, the children at TCT School controlled their own bubble machine at their school prom this year.
Walking dogs
This scotty dog comes with two large buttons that allow the dog to walk forwards and to bark. It also comes with accessories. This helps encourage children's mobility and caring for their pets. Other dog breeds are available too!
Racing cars
This remote-controlled Porsche has been specially adapted with accessible switches that can help improve hand skills.
Scalextric
These car racing circuits come with two racing cars and has been adapted to work with a button switch mount. This can help improve concentration and it's a great game to play with friends, which helps with social interaction. It also teaches children how to take turns. There is the My First Scalextric - switch adapted set and the Scalextric Endurance - switch adapted set.
Glow art drawing board
This light-up board is popular for reluctant drawers as they can practise handwriting and drawing in a fun way. The see-through board lights up and animates the drawing/writing.
The Xbox adaptive controller is designed for gamers with limited mobility. It works with a range of devices (mounts, switches, buttons and joysticks) that can be bought separately. Amy said: "It's great to use in gaming groups as everyone can join in." 
Switch accessible digital camera
The Canon Ixus 160, with switch access, is perfect for a budding photographer or for capturing memorable moments. It has a large viewing screen and the switch can be activated by any body part, such as the wrist, hand or chin, which encourages purposeful body movement. Amy recommends the camera is attached to a tripod to make it easier to use.
Happy shopping!