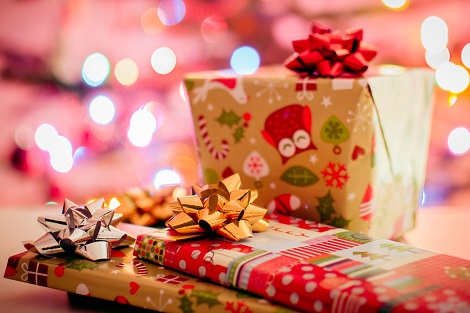 First published: 9 December 2019
"Although I love Christmas, it can be difficult to come up with gift ideas year after year when BJ's fine motor skills haven't develop in line with his age.
"But, he absolutely loves Christmas and rips open the gift wrap with great gusto, making me all the more determined to find something which will meet his joyous expectations."
For many years, mum Julie from https://havewheelchairwilltravel.net created a gift guide, and explained her reasons when she created her 2018 guide .
Her 2019 list included personalised gifts and toys, photo and travel ideas, stretchy dough, puzzle games and more.
Julie has guides from 2017 and before – ideas included pop-up toys, chalk paint and wireless headphones.
Mum Julie and her son BJ live in Australia but many of the ideas are universal. Taking inspiration from Julie we've looked at some ideas that can be bought in the UK:
Electronic books, £20ish

Book and sound tablet e-readers come in a range of titles appealing to different ages – we've found Paw Patrol, Disney Princess and Star Wars. No wires or plugs, you simply follow the colour coded pages on printed books and press the buttons on an electric pad to hear the text read aloud.

Lock and latch board, £18ish

This wooden latch board by Melissa and Doug is great for fine motor skills and the number of pictures and colours keep it interesting.

Easy Dressing clothing, from £3 upwards

M&S has an Easy Dressing range including baby gros, dresses, t-shirts, trousers and more. These clothes have hidden care labels for comfort, holes to allow tube feeding and riptape openings for easier dressing. Many of the clothes go from baby up to older teenagers.

Elastic shoe laces, £3ish

These easy no tie shoelaces are great – they come in all colours for a few pounds.

Nightlight and projector, £11ish

By searching around you can find night lights and projectors that appeal to children of all ages.
Happy Christmas shopping!