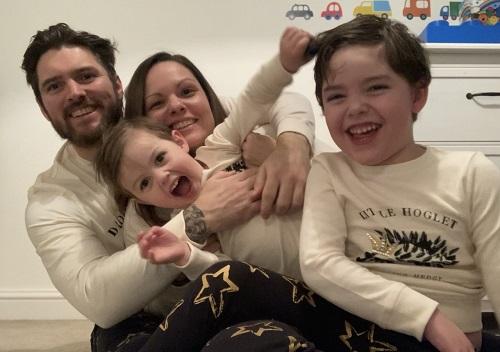 We started our Christmas tradition in 2017, two years before Ezra had his stroke. In December we go out and buy matching pyjamas for the whole family. Then we wait until Christmas Eve to all wear them – making sure we capture a family photo every year. 
Afterwards the boys go downstairs and set up the special plate with treats for Santa and the reindeer, before they go to bed. Excited for what the morning will bring! 
The first Christmas after Ezra's stroke was really hard as so much had changed for us as a family. However, we decided that it was important to keep up with our tradition and make sure that Christmas was still a special time for the four of us. 
The boys love it when we all have our matching pyjamas on, and they enjoy taking photos together. There is always lots of laughter as we put the camera on a timer and quickly try to run back into position. It's a free for all! Ezra also loves to look back through all the photos from previous years. It's a lovely Christmas keepsake. 
Ezra's progress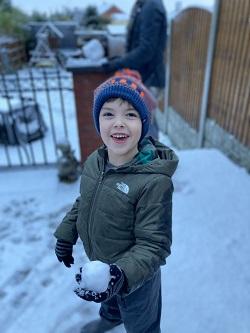 Ezra has made so much progress since his stroke in 2019. He is now in Year 2 in a mainstream school and doing really well. Ezra loves PE, maths, and science, and has recently found a passion for drawing. 
He will sit for ages drawing pictures and colouring in, which is amazing considering he couldn't hold a pen properly a year ago. Ezra's speech has come on as well, extending his vocabulary and communicating clearly. 
Ezra is so full of energy, running whenever he can, and is his happiest when he is outside exploring. He is more aware of his right arm now and is using it more and more – which helps him on his adventures.
There are definitely still some challenges – since the stroke Ezra does have trouble regulating himself and can become frustrated easily, but we now know that he needs routine to keep him on track.

Ezra's recovery is a journey that we are all on together, but he has come so far already and continues to amaze us.