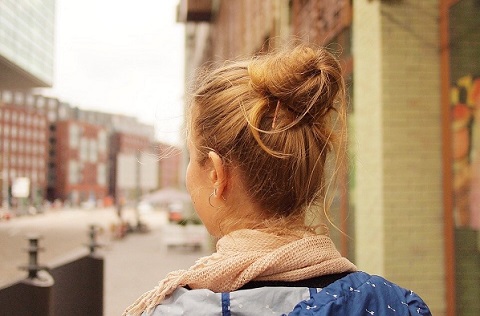 Published: 27 February 2020
20 years ago, as a student, I was hit by a car late at night. Kind strangers who came to find me in the hospital the next day described it as 'like someone had thrown a coat up into the air' before I came down with my head hitting the windscreen, bonnet, then the road.
I'd broken my shoulder, and my head had been shaved where I had cut it. But a couple of days later I left the hospital with a big focus on physio for my shoulder but barely a word about my head.
I'd been on a night out and myself and two friends had gone to cross the road between two parked cars. I have one memory of lying on the road and seeing the ambulance doors open and the next in a hospital bed, talking but confused. In between those times, and from when I was hit until the ambulance arrived, I was unconscious.
Returning home
When I left hospital I returned to my family and hometown, leaving my student house and university town behind me. I was gutted. My finals were in the next few weeks and I'd been looking forward to all our final year celebrations.
The broken shoulder was painful but this was made harder by the fact I couldn't even watch TV without a pounding headache. I'd pick up a book and the words would be blurry; trying to focus on a book or magazine hurt my head too.
I remember friends visiting and thinking I was grumpy and telling me off for snapping at my mum. But with physical movement being tough, and a dizzy, blurry head meaning I had very little to do, looking back my frustration was quite understandable (apologies to my family!).
I got driven to physio but that was all and I didn't see any other medical professionals about the head, or what I now know was concussion.
My mum spoke to my tutors and it was decided I'd sit my finals at the end of August rather than the beginning of June and we kept our fingers crossed I'd be ready. Again, I remember the conversations being more about the shoulder movement affecting my writing rather than the fuzzy head.
Back to student life
At home, I was desperate to return to my student house for the last couple of weeks of my final year. So, after a month, my parents begrudgingly drove me from Surrey back to Birmingham, where friends promised they'd look after me and I was convinced I was pretty much okay.
I was kidding myself. By now I could watch the TV and read but there was no way I could join the end of uni trips to Alton Towers or even the pub. I felt boring and a hindrance and wasn't sure why I'd pushed so hard for this. Some days a solo trip to the local hospital for physio was the only thing that filled my day.
I returned to my family home after a couple of weeks. The summer went okay. I relaxed and studied as I couldn't work and did my finals late August. I postponed backpacker plans for six months and did some temping work before flying off to South Asia the following January to start a year abroad.
A lack of information
I was lucky the effects were short-term. It was just a blip. But I remember being confused at what had happened to my head, wondering why wasn't it working as before, and when would things become normal again? We had no paperwork. No one mentioned concussion, mild brain injury, or even head injury. It was simply a cut that had been fixed with stitches.
Any information could have really helped my parents, tutors and myself understand a bit more and removed lots of the doubt. I'm so pleased concussion is being talked about more – not to scare but to help people understand that heads don't bounce back in the same way as broken bones. I'm grateful concussion is in the media and on the agenda. People shouldn't be in the dark when head injuries happen.
Order the booklet Concussion in children and young people: a guide for families, teachers and sports coaches (P&P costs only).
This covers what a concussion is, symptoms, tips, recovery, returning to school and sports, post-concussion syndrome and concussion in babies and toddlers.
You can also read our Information pages on concussion.