Published: 29 August 2018 
In May this year Alexandra Legouix was relaxing by the pool when a freak gust of wind resulted in both a parasol and lounger landing on her and trapping her underneath.
Alexandra went straight to hospital to have the gash on her head stitched – but she soon realised there were several hidden affects.
For the next few weeks Alexandra experienced tiredness, dizziness, confusion, memory loss, depression and other symptoms that made her realise she had concussion.
It's possible to have a concussion even without passing out or a loss of consciousness – so we caught up with Alexandra to find out about her experience and what she learnt from the accident.
How did you feel in the days and weeks after the accident?
Awful! I felt like a different human in so many ways.
The most noticeable initial reaction was extreme tiredness and confusion. I can best describe it as if I were in a fog and constantly felt like I didn't quite know what was fully going on around me.
As a result, I had a strong feeling of anxiety and fear and I felt very low. I have always been very confident but I realised I was scared of everything suddenly! Every sound made me jump. Every object was a threat. My awareness of potential damage was so acute I felt very insecure and unconfident. I was unconfident in my own safety and in how I looked.
Although I'm a TV presenter I'm not overly fussed about looks or vanity. But I did struggle with the large cut across my face. To start with I had to wear a large white bandage, then, when the bandage came off, it's human nature to stare and this made me feel worse.
I could see that people felt intrigue and pity – and everyone wants to know how, why, when – but no-one quite has the courage to just ask. As a result, you just get awkward, embarrassed stares.
I also really struggled with coming to terms with the whole experience and how serious it could have been. I was scared.
However, wounds heal, and I'm lucky it wasn't worse. I'm now three months on and my attitude has totally changed. I realise that the experience and the concussion took a lot more out of me than I realised.
I do get migraine headaches, more than I did pre-accident; I still get some ringing in the ears; and I do still think about it every day but everything has eased and I feel like the weight has lifted off my shoulders.
I worked hard on trying to change my approach towards my face. Obviously life got easier once the wound calmed down but also, once the fog cleared, my confidence returned and my approach to the whole experience changed.
I now feel proud to be sporting a scar. I have decided the only thing I can do is embrace it and I actually now quite like it. I feel gratitude that I am ok.
As an adult did you find it easy to find information on your head injury and its affects?
No... I found a distinct lack of information and I felt I really needed some support. My accident occurred in Monaco and back in the UK for my follow-up treatment I received absolutely no mental help or advice. Not a single word of reassurance from my doctor because she 'didn't know'.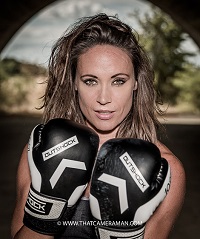 I felt extremely lonely throughout the healing process because no-one around me had ever been through anything similar. It is nigh on impossible to truly explain to someone how it feels to go through an experience like this unless they have ever been through similar and it shocked me how much it all affected me. I always saw myself as a very 'strong' woman, mentally, but this experience shook me more than I ever thought possible.
Every day I would search online for someone else to reassure me of my feelings but I found very little that could help me specifically and I felt unsure about seeking help from one of the major brain injury websites. Now I realise that was something I should have done because speaking to the wonderful gang at The Children's Trust really helped me get out of what I felt was a rather dark hole.
What would your advice be to someone in a similar position?
Seek help sooner than I did! What I have learnt is that when it comes to head and brain injuries it may not always be obvious if an injury is minor or serious.
The Children's Trust charity for children with brain injury has a great information website called Brain Injury Hub that includes a lot of useful and specific information on concussion which, although geared towards helping children, is great advice for adults too.
The charity also has the Brain Injury Community Service, which offers a screening service for children with a confirmed or suspected acquired brain injury (this may include children with a concussion).
Generally, I would explore any avenues that might help reassure you and help put your mind at ease.
Thanks to Alexandra for sharing her story. Alexandra is a proud supporter of The Children's Trust and helped present the charity's The Supercar Event this year.
Alexandra is best known for her work as the main face and pitlane reporter of Eurosport's live coverage of the FIA WTCR World Touring Car Cup and as creator/presenter of fitness DVD 'Yoga Made Simple'.