Today is European Music Therapy Day with celebrations across Europe including a theme song 'Share your emotion'.
Music therapy can help children and young people who come to The Children's Trust to work towards their goals or provide emotional support. It is a psychological clinical intervention that helps people whose lives have been affected by injury, illness or disability – and it supports psychological, emotional, cognitive, physical, communicative and social needs.
We spoke to The Children Trust's Claire Wood, Lead Music Therapist (Neuro rehabilitation), and Sophie Dawson, Specialist Music Therapist at The Children's Trust School, to find out more.
Mikail's music therapy in neuro rehabilitation
Mikail, aged 12, had a brain injury when he was involved in a road traffic accident as a passenger in his father's car at the age of 11. Music therapy at The Children's Trust's residential rehabilitation benefitted Mikail in many ways.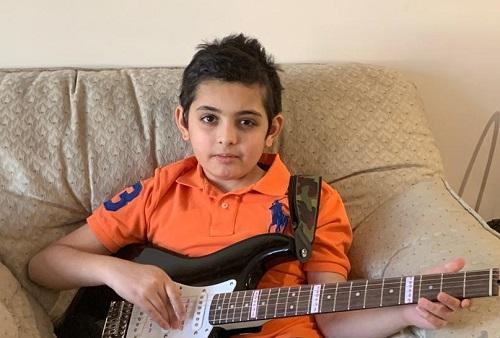 Claire Wood, Lead Music Therapist (Neuro rehabilitation), explains: "We supported Mikail in returning to play the electric guitar. 
"Through this activity he worked on cognitive and motor skills related rehabilitation goals – but most importantly he got to participate again in something important to him.
"Regular music therapy gave Mikail an opportunity to regain his self-confidence and have a sense of who he was after his brain injury providing a sense of achievement whilst having fun!"
Claire says there are many examples of music therapy helping children and young people. She explains: "We use songs to help young children learn things like phonics or the days of the week – and we can help children relearn in the same way in rehabilitation after a brain injury.
"For some children, playing their favourite instrument again is a big priority – and this can really help a child emotionally." 
Megan's 1:1 music therapy sessions at The Children's Trust School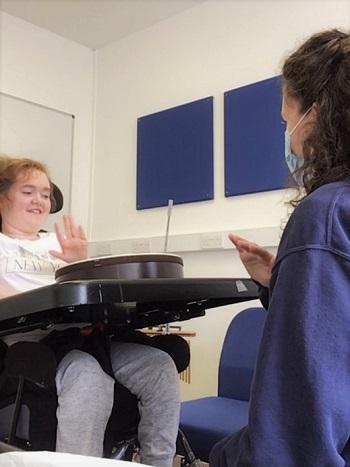 The Children's Trust School's music therapy sessions include 1:1 specialist input, and targeted group work. 
Megan takes part in 1:1 sessions and has been using music as an effective form of communication using instruments and voice.
Megan enjoys both familiar song and improvised material, often taking it in turns to sing with the therapist, with the music feeling like a conversation!  
Sophie Dawson, Specialist Music Therapist, says: "The sessions help Megan to develop skills such as listening, turn-taking, and responding, and provide her with further opportunity for self-expression through sounds and music.
"Musical interaction can help us to feel heard and understood, this is particularly effective for our non-verbal pupils." 
Finn's group music sessions at The Children's Trust School
Finn also attends the Children's Trust School and has had access to groups held in enrichment weeks. The groups often place an emphasis on developing social skills and awareness of others.
Sophie says: "Shared musical experiences can help us to develop bonds with one another. 
"Finn went to the music group during Enrichment Week and took the opportunity to try out different instruments, contributing to a group piece. The guitar is a firm favourite for Finn!"
Happy European Music Therapy Day and thanks to all the music therapists! Please follow #musictherapyday on Twitter, Facebook and the official website to find out more.