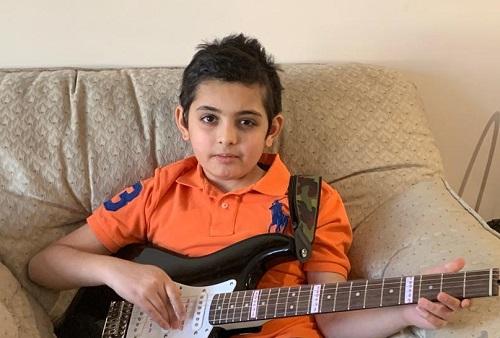 Published: June 2021. Date of brain injury: 14 September 2020 (child aged 11 years)
A truck hit the passenger side of the car at speed, pushing it into a nearby house and causing significant structural damage. I was overseas at the time and had to hear about the accident over the phone. Thankfully, there was a woman who saw it happen and called the emergency services. 
Mikail was unconscious at the scene and attended to by a HEMS team (Helicopter Emergency Medical Service) along with the London Air Ambulance, who then airlifted him to The Royal London Hospital, avoiding rush hour traffic and completing the journey in 2.5 minutes. 
The fact that the emergency services could get to Mikail so quickly, and the speed of their care, is ultimately what saved his life.
Mikail's arrival at hospital
Due to the Covid-19 restrictions, it took me almost three days to reach London. The team at The Royal London were brilliant and the care they provided Mikail under the circumstances was amazing. 
I remember one call, in which I was included with Faisal who was also recovering at the hospital with a fractured spine, to provide consent to Mikail's surgical team so that they could perform a craniotomy, an operation Mikail needed to have before I arrived in London. They took the time to explain the procedure in detail, answered all our questions and the surgeon's confidence put us at ease.
Moving from ICU to a children's ward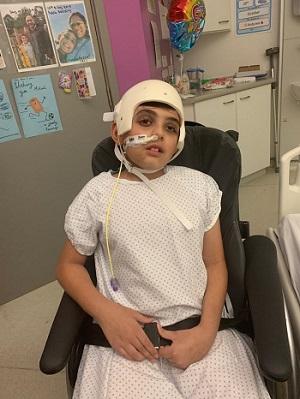 After 12 days in the paediatric ICU, Mikail was considered stable enough to be moved to a children's ward for recovery. He couldn't do anything on his own. Even when he started to regain consciousness he couldn't eat, drink, walk, or talk, and needed to relearn all his basic skills. 
It was a very difficult time for the family, with lots of ups and downs. Initially we were just in shock and running on autopilot. At such times, you have to stay positive. 
We had to focus on what we could do each day and how we could help to make things better. During Mikail's stay in hospital, Faisal and I took turns to stay with him 24/7. I even had to self-isolate with Mikail for 14 days in his room! Mikail is such a determined child and we had so many people supporting us and keeping us in their prayers. It really helped us get through it.
Moving from hospital to rehabilitation 
Mikail started to make good progress and began to take a few tentative steps. His team at The Royal London advised that Mikail would need intensive rehabilitation to continue his progress and introduced us to The Children's Trust in Tadworth, Surrey, where Mikail travelled with Faisal upon discharge. It looked like a holiday home! It was the right choice for us. 
Being in a city hospital, Mikail had not had any fresh air for over two months, and being in a calmer, serene environment, The Children's Trust provided easy access to outdoor space. A bit like a home away from home.
Following his cranioplasty, Mikail was initially discharged from hospital on 17 November. However, he had to quickly go back for another week post operation to address some initial concerns. Finally, on the 26 November we travelled back from the hospital to The Children's Trust. 
Starting rehabilitation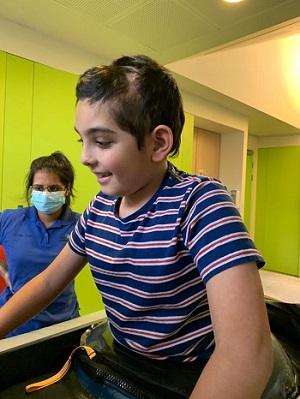 Due to the Covid-19 safety restrictions, we both had to stay in Mikail's room for 36 hours before starting his rehabilitation programme. It was lovely that Mikail had his own room, with a view of the grounds, and he really liked having his name on the door. Once we had settled into the new routine, it felt like we'd made it through the worst and a new chapter was beginning.
It was great that parents could stay onsite, and Faisal and I alternated on a weekly basis. Initially we slept in Mikail's room but when he felt comfortable, we were able to stay in the separate parents' accommodation. It was so important to have that space from each other. As parents we were on a very emotional journey and sometimes needed that private space to rest. 
Having that social interaction with other parents and hearing their stories helped us realise that we weren't alone. That space also helped Mikail feel more independent again, and we knew he was safe. The staff were always there to support him, so we didn't feel nervous leaving him on his own.
Progression in music therapy sessions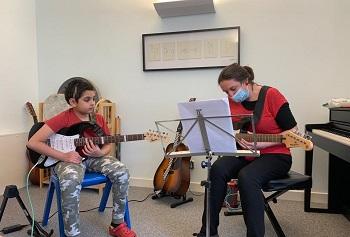 Mikail continued to make progress every day and enjoyed all his therapy sessions, especially his weekly visit to the hydrotherapy pool and reconnecting with his guitar in music therapy. 
Mikail had been learning to play the guitar before the accident, and he loved getting back to it in his sessions with Claire. It really helped to build his confidence and he even started playing what he'd learnt of Sweet Child of Mine and The Zepher Song to the other children at Maple House.
"Making music is a physical exercise," explains Claire Wood, Lead Music Therapist at The Children's Trust. "It also demands a lot of thinking skills – remembering the notes, the timing of them and eventually challenging your attention skills by playing with others too. It's such a lot to think about, a full brain workout, which makes it ideal for rehab.
"In his early sessions Mikail talked about what he found hard. He couldn't hold a guitar pick easily and felt his little finger wasn't as strong as his others. He wanted to play the riff from Sweet Child of Mine by Guns n Roses, and we built this up, with Mikail memorising the patterns as a sequence of numbers initially. He worked out what he needed to do to improve and practiced hard each day. He used the Smoke on the Water riff as a warm-up, worked on an exercise to get his left hand moving more and would shake his hands if his wrist or fingers began to feel stiff after playing.
"By his final session Mikail was using his little finger confidently and had just begun to use a guitar pick again. Music therapy is very holistic and was intrinsically motivating for Mikail. He wanted to play his guitar again as it was, and continues to be, such an important part of his life."
Enjoying occupational therapy and play therapy 
When she realised how well Mikail had responded to playing his guitar again, occupational therapist Sammy started incorporating music into her sessions too. It felt like everything was connected and therapy could all be adapted to best suit the child. 
It was the same with Mikail's play therapy sessions. The staff asked what he liked to do, then made sure to include it. For Mikail that was Lego, and he was able to build something new in every session. He loved it, and just felt like he was playing, but it was helping to improve his motor skills and ability to follow instruction. When he arrived in Tadworth Mikail had a slight tremor in both hands, which reduced significantly during his stay.
Returning to school lessons
Alongside his therapy sessions, Mikail also had academic lessons with The Surrey Teaching Centre. He enjoyed having an element of school and was proud to share a couple of presentations explaining the work he had completed. It helped to bridge the gap, and refamiliarise himself with what his peers would be doing in school. 
Towards the end of his stay at The Children's Trust Mikail was also able to join a few virtual classes with his current school. We really appreciated the staff accommodating this within Mikail's schedule as we knew it would help with his transition home, reconnecting with his friends and going back to school full time. 
Returning home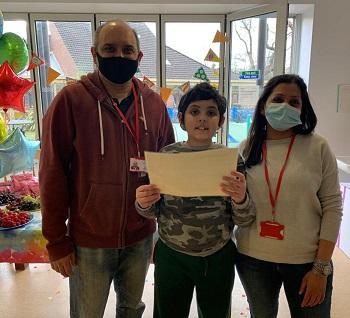 Mikail rang the going home bell on 5 March 2021, celebrating everything that he had achieved. He went back to his mainstream school on 16 March and has recently started speech and language therapy sessions at home. We are very proud of him. 
School is the best environment for Mikail as he is in a familiar routine again and will be able to complete primary school alongside his friends. This would not have been possible without everyone's support. 
Being at Tadworth, in that environment, helped us recognise that this is a starting point, another chapter in Mikail's journey. It provides families with a different perspective, and we all learnt transferable skills that we could bring home to help with his continued progress. 
The fact that The Children's Trust continued to provide its services during the Covid-19 pandemic, when we needed it most, is just remarkable!