Our Senior Leadership Team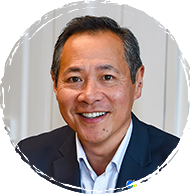 Dalton Leong | Chief Executive
Dalton had a 21-year career in the private sector, in financial services and banking. In 1995, he became a founding Trustee of The Shooting Star Children's Hospice and was subsequently appointed Chief Executive in 2004. He was also Vice Chair of Children's Hospices UK (now known as Together for Short Lives). Dalton then became Managing Director of Charities & Communities at Global (the UK's largest commercial media entertainment company) where he led the corporate social responsibility programme and the charities of Heart, Capital and Classic FM, amongst others. He is an Ambassador of CharityWorks, the UK non-profit sector's graduate programme; and a Companion of the Chartered Management Institute.
Jayne Cooper | Director of Clinical Services
Jayne has been a registered children's nurse since 1996. She was previously Chief Executive of Woking and Sam Beare Hospices, having initially joined them as Director of Nursing. She has also held the roles of Associate Chief Nurse for Integrated Medicine at Buckinghamshire NHS Trust and Head of Nursing for Neurosciences Clinical Unit at Great Ormond Street Children's Hospital. She was awarded the Florence Nightingale Foundation Children and Young People Leadership Scholarship in 2011.
Paul Farthing | Director of Income Generation & Communications
Paul has over 25 years' experience in marketing and fundraising. He began his career with campaign group Charter 88 and children's charity Young Minds.  He then spent 10 years in agencies, becoming Managing Director at Target Direct, a direct marketing agency. His charity experience began at Cancer Research UK as Legacy Fundraising Director and then High Value Relationships Director. He worked both at Age UK and NSPCC as Director of Fundraising. He was also CEO - Fundraising of The Aspinall Foundation. Paul is a Trustee of The Elizabeth's Children Charitable Trust.
Colin Kerr | Director of Finance
Colin was interim Group Finance Director for the Avenues Group, a Learning Disability charity. Previously, he was a Director at the Commonwealth War Graves Commission, covering finance, IT, information, facilities and external relations. He has also had extensive experience in education as Director of Finance of the Specialist Schools & Academies Trust and the Learning Skills Network and in the NHS covering a Health Authority and two NHS Trusts. He is a member, and Chair of the Charities Panel of the Institute of Chartered Accountants, Scotland.
Mike Maddick | Director of People & Culture
Mike has 15 years' HR experience gained within the Financial Services and Charity sectors. He has worked in a number of significant global roles within corporate HR departments, with a focus on Business Partnering, Talent, Graduate Resourcing & Development and Senior Hiring. Mike was a youth worker and community volunteer providing support to children and young adults via sport and independent living projects.
Professor Gareth Morgan | Medical Director
Gareth is an experienced clinician and medical manager. He joined The Children's Trust from the Medical School at Swansea University where, as Dean, he helped establish the school which is currently ranked 3rd in the UK. He has also been clinical director of an NHS immunology laboratory and at Great Ormond Street Hospital. As head of a Medical Research Council field station in The Gambia, he was responsible for a rural primary health facility. Gareth continues his clinical practice in paediatrics and paediatric immunology and is a Fellow of three Royal Colleges - Paediatrics and Child Health, Physicians and Pathologists.
Sam Newton | Director of Education
Initially a mainstream teacher, Sam then moved into the field of Special Educational Needs in 1998. She has since held a variety of leadership posts across both primary and secondary settings for pupils with a range of needs but most specifically for those Multi Disabled Visually Impaired, Deaf / Blind and with Complex Education, Health and Care Needs. Sam has 20 years' leadership and management experience with experience in both school education and residential settings.
Nicola Smith | Director of Strategy & Transformation
Nicola spent 16 years working in the corporate sector for Accenture, a management consultancy. She has a wealth of experience in delivering change projects and shaping large outsourcing deals. Nicola has previously led our IT, Estates, Health & Safety and Governance teams. As our Director of Strategy & Transformation (Feb 2020) Nicola is responsible for driving the organisation forward to deliver our Strategy: Hope & Ambition, managing it as a cohesive plan and being directly accountable for delivering key strategic projects.
---
Our Trustees
The Children's Trust is governed by our board of trustees, which meets six times a year. Our trustees are responsible for overseeing our corporate governance and strategic direction, ensuring our operations are managed effectively and efficiently, and taking all major decisions involving policy and spending commitments.
Duncan Ingram  |  Chair of Trustees
Chair of Paym. Non-executive director of the Hyde Group and Laurence King Publishing. Trustee of YMCA St Paul's Group and of the World Alliance of YMCAs. A former managing director at BT.
Melissa Grigsby
Melissa has over 20 years of education experience within the SEND sector across the UK and is passionate about ensuring the SEND landscape meets the needs for all young people and their families whose lives are impacted by disability.  Melissa is currently CEO for COINS Educational Services Social Enterprise, who help to achieve excellent access to Education for young people who are currently forgotten or misplaced by disabilities. She is also Vice Chair of Trustees of the National Association of Independent Schools & Non-Maintained Special Schools (NASS).
Sarah Baker
Sarah's clinical background is as a children's nurse and health visitor. Sarah brings a wealth of experience as a Director of children and family clinical services and as a Director of Quality and Nursing. Sarah has held a variety of independent chairing roles working with partnerships across health, social care and the voluntary and charitable sectors. Sarah is the Whistleblowing Lead at The Children's Trust.
Tim Davies
Chairman of BlueSpark Foundation, a charity supporting the education and development of children and young people. He was formerly a corporate lawyer with multinational law firm Fieldfisher LLP where he was a partner, head of the corporate department and board member.
Denise Matthams
Independent Nurse Member for a Clinical Commissioning Group in East Sussex, with Chairing responsibilities for the Quality and Safety Committee.  Also, a Specialist Advisor (children, safeguarding, clinical leadership) for the Care Quality Commission.  Former Senior Nurse and Director  level roles at  Western Sussex NHS Trust, included responsibility for the provision of safe, effective services, most specifically for  the Women and Child Health Division.
Toby Mullins 
Principal and proprietor at Mount House School, Barnet. Toby's career history in Education spans 32 years, including a former position as Headmaster of Seaford College, a nationally recognised college for SEN education. Toby is a keen sportsman, coaching cricket and more notably hockey.
Nigel Scott
25 years' involvement in charity finance at Director and Trustee level, including 14 years lecturing on Charity Finance and Management MSc Courses. Currently, Consultant to Moorfields Eye Hospital Charities and a Trustee of the British Dragonfly Society.
Fiona Sheridan
Fiona is a Chartered Accountant and an external member of the Audit & Scrutiny Committee of the University of Oxford. Also a Trustee and Honorary Treasurer of the Royal Alexandra and Albert School Foundation. A former senior Partner with Ernst & Young. In her spare time she enjoys outdoor pursuits including horse-riding, cycling and running.
Sam Thomson
Sam has 20 years of corporate experience in Marketing and General Management, as UK Marketing Director and interim Managing Director of The Body Shop Western Europe, and Senior Brand Manager of Procter & Gamble. His passions in work are People, Product and Purpose. Away from the office, he is a keen deep-sea diver.
Anne Walker
Anne was Chief Executive of Bedfordshire and Hertfordshire Ambulance and Paramedic Service NHS Trust – the first female chief executive of any Ambulance Trust. Over the last 13 years, she has held a number of chief executive roles, most notably at NHS Surrey (2010-13), which has given her extensive leadership, governance and commissioning experience. Anne is also a management consultant in the health and charity sectors.