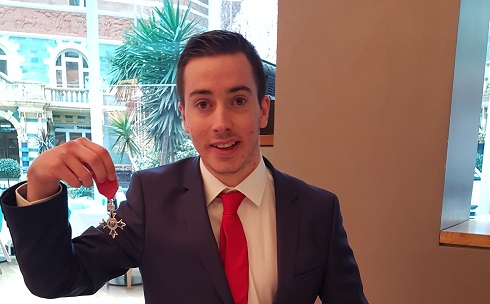 Published: December 2019. Date of brain injury: March 2012 (young person aged 15 years).
On the 17 March 2012 15-year-old Charlie was crossing the road, after getting off the bus, when he was knocked down by a car.
His head took the full impact of the accident and he suffered a severe brain injury. He was rushed to the intensive care unit at Birmingham Children's Hospital. Charlie's parents were at his brother's 8th birthday party when they received a phone call from the police and they raced to the hospital to be by their eldest son's side.
Charlie remained in intensive care for 11 days before being moved onto a neurosurgical ward where he spent the next four months in an induced coma. Doctors said that it was unlikely he would be able to walk or talk again and would probably never return to education.
At hospital 
During Charlie's time in hospital his siblings (aged 11 and eight years) would visit most evenings and at weekends, but there wasn't much they could do and space was limited. This meant they spent a lot of time at their grandparents. Charlie's mum, Sara, said: "While both of us, myself and Mark [Charlie's dad], were at the hospital a lot they would go to their grandparents house so a lot of upheaval for all involved."
Talking about the accident, Charlie said: "I spent four months at the children's hospital and can't remember a thing! I knew that I had a severe brain injury and that the outlook wasn't good."
Rehabilitation
After four months on the neurosurgical ward in an induced coma Charlie was transferred to The Children's Trust (TCT) specialist rehabilitation centre for children with brain injury. During the ambulance journey from hospital to TCT Charlie woke up from his coma. "I was strapped into a stretcher and I couldn't move my legs or anything but I just waved at my mum, who was there beside me," said Charlie.
Talking about the move to TCT Sara said: "Moving to Surrey was daunting for all as it was so far from home and they wouldn't be able to visit as much or see their mum."  
Sara commented on how different TCT was to a hospital and how they could just sit with Charlie and watch TV or take a walk around the wooded grounds. She said: "We could see how much Charlie enjoyed this too as although he wasn't able to express himself he would look happier when we were all together."
At TCT Charlie had a daily routine of rehabilitation and school. The aim was to get him walking, talking, eating and drinking again. Charlie recalled: "I hated having to do all the different therapies while at The Children's Trust but I took on every challenge and spoke for the first time after two months."
Thinking back to Charlie's time in rehabilitation Sara recalled: "Charlie particularly loved the physio sessions and playing football on the football pitch even though he was still in a wheelchair at this time. He also enjoyed playing FIFA in the teenage room with his play worker and other carers. Charlie enjoyed knowing what his routine was each day and being busy with lots of sessions."
Charlie enjoyed friends visiting him at TCT and they even attended some sessions with him and helped him stand during some of his rehabilitation sessions.
Taking steps forward
On the 16 September 2012, six months after the accident, Charlie took his first steps.
Despite Charlie's physical achievement he was still struggling to communicate and to show expression. So his first smile since the accident was a massive moment. Dad, Mark, said at the time: "Since the accident Charlie can't cry. He can't smell, he doesn't know when he's full after eating, he's got no lactic acid. So with all of those things, to get a smile back on his face after six months … it was unbelievable."  It was the stand-up comedian Michael McIntyre's YouTube video that brought a smile to his face!
In February 2013, having spent 10 months receiving rehabilitation at TCT, Charlie returned home.
Returning home
Talking about his life since the accident, Charlie said: "I feel there were two things that gave me the best chance to recover like I have today:
Parental and family support in everything I have done has been massive
And a never give up attitude."
Thinking back to what motivated Charlie, Sara said: "Charlie's passion for football 100% made him push himself and all he wanted to do was play football again above everything else. Parental and family support helped massively too as he knew he was never on his own and everyone was pushing for him to get better and ensuring everything was being done to help him."
Life after an acquired brain injury
At home Sara noticed some changes in Charlie. He had developed a short temper so he had to learn how to control his outbursts. It wasn't easy having a younger brother who would take things from him and then run away!
At TCT Charlie had been assessed by the on-site school and the results had shown he had the English and maths memory of a seven-year-old.
However, Charlie was able to return to his mainstream school in Solihull, from April to July, part-time and with one-to-one support. The following September he dropped down a year starting year 12 again. He could still see his friends, who were all in year 13, at break times.
Charlie had episodes of fatigue so he started school later and finished earlier Sara said: "He only did coursework A- levels so he could get support and help with this. Peer reactions were amazing; he was a bit of a celebrity at school."
Five months after leaving TCT Charlie went back to playing football for the West Midlands Centre of Excellence team.
In May 2014, Charlie and his dad arranged a charity football match that raised £3,000 which he split between Birmingham Children's Hospital and TCT.
Charlie went on to join the West Midlands cerebral palsy team where he played tournaments. To keep his fitness levels up and to carry on his rehabilitation Charlie trained with a sports and conditioning coach and had physio sessions through the NHS. He continued his speech and language therapy privately.
In January 2015, two years after returning home, Charlie was selected for the Northern Ireland Cerebral Palsy team and has since travelled to play internationally in Championships and at the Cerebral Palsy World Cup. Charlie continues to play regularly for Solihull Moors FC Community team.
Three years after sustaining his brain injury, Charlie, then 18, saw the need for an inclusive football team and so he set up and became the Player Manager of the Disability Team at Solihull Moors Football Club. Charlie's dad, Mark, who has always been heavily involved in football and who helped establish the Moor's disability team, inspired him in his recovery and his achievements. 
Mark said at the time: "If you talk to any neurosurgeon now, they'll tell you there's that many pockets of damage in Charlie's brain he shouldn't be able to do anything." Mark was explaining how against the odds Charlie was thriving.
Motivational speaking
Charlie said: "My life changed completely after the accident but I now have so many other and better opportunities." 
Charlie has a new role as a motivational speaker at sports clubs, schools and colleges and business events, internationally. He uses his sense of humour and experiences of overcoming his challenges, since his brain injury, to reach audiences of all ages and backgrounds.
Charlie also works with organisations such as the Sir Stanley Matthews Foundation, the League Football Education and the Premier League delivering motivational speeches and carrying out ambassador work.
Charlie has received lots of awards for his contributions to disability in football and his ability to inspire and motivate others.
Five years after returning home from TCT, Charlie was awarded an MBE in the 2018 New Year's Honours list for his services to young people setting up the disability football team in Solihull. Sara said: "Being awarded his MBE in 2018 was a total shock to Charlie and he couldn't quite believe it. He was amazed and in awe when he was met by Prince William at Buckingham Palace."
Talking about his life outside football Charlie said: "I gained a degree in Applied Sports Science in 2018. Remember that the doctors didn't think I would finish my education."
Charlie today
Charlie defied his doctors' prognosis by going on to achieve many personal goals. Charlie said: "I set myself goals and once I achieve them, I set myself more'.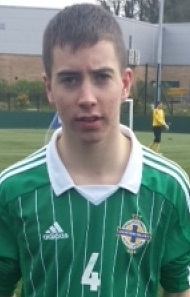 In May 2019, six years after Charlie left TCT, he returned to the specialist rehabilitation centre to help mark the launch of its Tiny Massive Moments campaign, which celebrates how tiny steps can lead to massive moments. His speech inspired children with brain injury and their parents.
Talking about his personal goals Charlie spoke about his recent rehabilitation at The Jockeys Fund. Charlie has started seeing an improvement in his walking but he said: "I will continue to work hard to get my walking as near perfect as I can." He went on to say: "Perhaps more importantly, I want to continue to inspire others."
Talking about what drives Charlie, Sara said: "Charlie loves inspiring and motivating others and travels all around the country doing speeches and showing people what hard work and determination does and how it pays off."
Charlie's message to others is: "Anything is possible in life if you have self-belief, you work hard, and you never give up." Charlie continues to push his own boundaries to achieve all that he can and to be the best that he can be.