Published: February 2016. Date of brain injury: March 2012. Child's age at time of brain injury: 17 months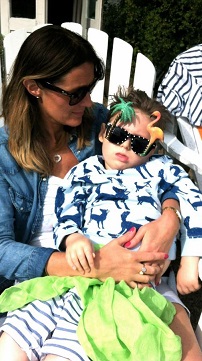 June 2012
On 11 March 2012 our lives changed forever. Our beautiful 17-month-old son Jago slipped away from the other children, all staying with us that weekend. He was missing for the briefest of time, but unfortunately decided to explore the duck pond at the bottom of the garden and fell in. He was found in quick time, but it seemed all too late.
A call to the emergency services brought first the police, then after twenty minutes, an ambulance. The paramedics fought for forty minutes with his lifeless body in our front hall, which was now full of uniformed and un-uniformed people, all fearing the worst, until one of the paramedics shouted "everybody be quiet! I have something…". The next few moments were palpable, a collective holding of breath until the words "I HAVE A PULSE" rang out in the hallway.
I ran to my wife in the next room, already grieving our loss, such was the seemingly hopeless situation and I remember saying "it's not over!". Far from it, this was to be the beginning of a journey where the destination may never be decided. On that first night we were delivered the devastating news that he would probably not survive the night. We were told that if he did survive it could be with severe brain injury due to the lack of oxygen to his brain.
The following day he was still with us and we asked his consultant what his chances were of survival, he said that Jago had a 1% chance of survival.
In that first week, in our search for answers, we were given some targets for Jago to achieve ie breathing without aid, processing feeds, maintaining good o2 saturation and pulse which were given to us in terms of weeks. He achieved all of these in the first week.
Three months later, Jago is still fighting, he has been transferred to The Children's Trust in Surrey, the UK's leading paediatric brain rehabilitation centre. He can breathe on his own and he can swallow small bits of purée food. His eyes are open and he is tracking certain lights, he can hear our voices and moves his head towards sounds. In the Consultants own words 'he has made remarkable improvements'.
Only time will tell what affect the oxygen starvation has had on his brain and how this will affect the rest of his life, but the fact that we still speak about Jago in the present tense is incredible, miraculous and testament to both the care that he has received and his own strength of spirit.
It has become clear that Jago will need ongoing therapies (Physiotherapy, Occupational Therapy, Speech and Language and Hydrotherapy) when he leaves rehabilitation, all of which are extremely underfunded in the Community – and this is something we will need to subsidise with the support of friends and family contributions.
It is very early days for us and we are focusing all of our energies into Jago's rehabilitation as well as trying to sustain a stable family life for our other two boys. Eventually we would like to develop the Foundation into a resource that can provide parents with more support and access to relevant information. Being able to talk to somebody in a similar situation is vital to both comfort and manage expectations and in the absence of such a service we had to reach out to our American cousins to get information.
March 2014, Lyn and Barney's thoughts two years on
It is that time of year again when the weather starts to improve and the hope that generally accompanies Spring returns. Unfortunately, this has become a very difficult time for us.
Jago's accident is just as clear in our minds as it was two years ago. We have been through an extraordinary time and I still stop in my tracks and ask myself if it really happened? Through this time, we have endured as a family and have found the resolve to fight our way through this mess.
It has tested our strength to breaking point and found the limit of our resilience. A limit we never wanted to explore.
Although we have had to accept our 'new' Jago and our new life, it is still very tough and Jago still has many days of great discomfort – it is almost unbelievable that not only has his life been extremely compromised but he also has to suffer – this is a desperate situation for a parent to watch.
Our main focus over the past year has been to surround Jago with a safe and loving care team. It has been challenging but we are getting there.
One of the bigger hurdles has been managing the influx of people that you suddenly find in your life when you child is compromised – doctors, nurses, CCG's, Social Services, the list goes on. Suddenly your child becomes public property and you have to share him with all of these strangers that of course are trying to help but in reality a lot of time and precious energy is wasted.
We are still battling with our local CCG who do not believe that Jago needs 24/7 care, this has really taken its toll on us, but of course we will never give up. We have had to open the door to our lives and be scrutinised in the most invasive way to try to win this battle and because of that experience, our hearts go out to every parent that has to endure this further insult.
We were told at the beginning, 'those that shout the loudest get what they need', and we have found this to be somewhat accurate. It is grossly unfair on those that cannot shout or find the strength to fight.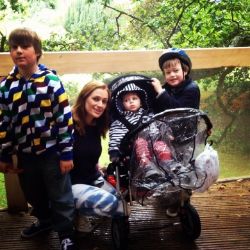 Through the development of Jago's website we hope to be able to provide some support and advice for these parents. The website will act as a responsible, audited resource providing useful information to parents who, like us find themselves in a devastating, new world overnight.
This whole experience has been such a steep learning curve for us, having to adapt to this expensive new world, that it would be shameful not to share our knowledge with everyone else, even if it helps just one family.
The recurring theme with people that have experienced a tragedy such as ours, is the wish to make something good come out of. We are determined to do this, with just a little help from our extraordinary friends & family
April 2015, an update three years on
It has been three years since Jago's accident and I almost cannot believe that my baby is now four. Although we walk a rocky road Jago has been calmer and life has been slightly better for him and all of us. He now can access a special nursery every day and participate in his own way, in life.
The last year has had many challenges but the biggest one has been around the subject of 'acceptance'. I always thought that when people spoke of this subject it would be something that I decided to do. But instead it's something that just happens, in my case in a very emotional and terrifying way.
You see I've been living on the edge for all this time, fighting my way through all the challenges and being driven by grief and anger, the fight is what kept me strong. At the beginning of the year something changed and I found I was exhausted, so extraordinarily tired and sad that I just couldn't do very much… but feel sad. The tears just flowed and I didn't know how to stop them.
I know now that this was my first step into accepting that my beautiful, perfect boy would not come back and that this lovely boy that I hold so tightly every day will be here to stay. The fight was over. It was time to move on and just manage each day as it came, to start looking in at my family and not out to find a solution…clinging to anything that might help. The inner me just said "STOP".
So I did…
Although hard to accept, this change brought with it a relief and a new strength to start living as me again, having a life…and not just pretending to have one. Before my fears were locked inside but now I can verbalise them…not easily…but I can. My inner soul is no longer locked away and I feel strong enough to face the world and try to make changes for others.
So I began to focus on creating a new resource website for parents like me. An inspiring web-based lifestyle resource, designed to support and which will bring people and their ideas together. 
Click here to see the Brainstars website.
To read more of the family's story and Jago's progress click here.