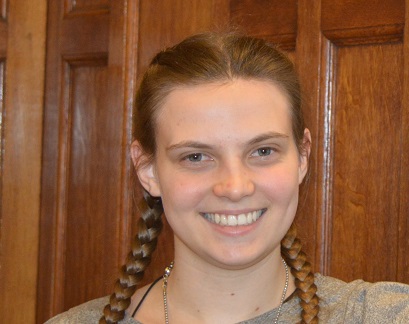 Published: January 2018. Date of brain injury: 2008, aged 11
I was on holiday with my family on the Isle of Wight. We were on the beach, and my friend Annie asked me if I wanted to join her and her father on their speedboat. I checked with my parents and they agreed it would be okay.
I put my lifejacket on and we set off feeling quite excited. After a couple of minutes I got a terrible headache and I asked them to take me back to shore.
It felt as though I had been hit on the head with a hammer a hundred times. I got off the boat and walked up to my mum and told her I felt sick. I was then sick and the rest I don't remember as I collapsed and went unconscious.
When I had collapsed it was just so lucky that Dr Rosemary Leonard was on the beach and she put me into the recovery position and instructed my parents to call 999 immediately. I now know that I had suffered a massive brain haemorrhage.
An ambulance came and took me off. The ambulance man felt my pulse and he said my heart had nearly stopped so he gave me an adult stroke dose of heart medication to get my heart pumping again.
I was given brain scans at the hospital on the Isle of Wight and was put onto a life support machine. Then I was airlifted by coastguard's helicopter to Southampton General Hospital because they had a specialist brain unit.
Arriving at hospital
When my parents eventually got to Southampton Hospital they were told that I would not survive because I had suffered a major brain haemorrhage cause by an aneurism and I had an AVM, which stands for Arteriovenous Malformation, which is a very rare brain condition.
They were totally stunned because only minutes before I collapsed I had been absolutely fine; a happy 11-year-old having a great time on the beach.
The surgeons at the hospital told my parents they had inserted a tube into my brain to get rid of huge amounts of blood. They also had to drill into my skull as my brain was just swelling at this point, which could cause another brain haemorrhage or a stroke, both of which would have killed me instantly.
I received pioneering brain surgery at Southampton, which had never been carried out on a child ever before. The surgeon put a fine catheter from my right groin past my heart and into my brain and they sealed the aneurysm with onyx, which is a bit like superglue, and luckily the operation was a success.
I was on a life support machine and remained in a coma for about five weeks. Eventually I started to wake up. And when I did I could not see, I could not talk or walk. I couldn't swallow and I was incontinent. I could only blink for a yes.
Physiotherapy in hospital
At the hospital the physiotherapist worked very hard indeed to get me walking again. They got me out of bed using a hoist, which made me very frightened. They put me into a very supportive wheelchair; I couldn't even hold my head up. I can remember all of this.
Just before I left hospital I could manage only a few steps of walking unaided and had to be in a wheelchair most of the time. Eventually with lots of practice I started to walk on my own again and I started to talk again but not in sentences.
I had started to eat and drink on my own again, which was a great relief.
Back home
When I came home it was so nice to be back in my own surroundings but my mum realised she was going to need a lot of help. She was advised by the neurologist to try and get help from The Children's Trust (TCT) in Tadworth, which she did.
An occupational therapist from TCT came to visit me at home and said that I would need a lot of help and rehabilitation. I then went to Tadworth for a week to be assessed properly and it was agreed that I would go there and live there for the five months to get the rehab I desperately needed.
Relearning skills through rehabilitation
I had to be taught everything all over again, just as if I were a baby.
I remember being frustrated at not being able to do all the things I used to do. Everything was difficult and I couldn't even remember simple words. It was as though my head was a complete jumble and I got really confused about how to do the simplest things. Everything was a complete blur.
I had forgotten how to have a shower and how to get dressed. I remember trying to kick a ball to my friend's dog and I wobbled and fell over when I tried. I couldn't ride my bike anymore or lots of other things too, which was really frustrating.
The therapists at TCT really helped me and during the five months I was there they taught me to do all the things I had forgotten how to do. It was great and it was such a relief when my memory started to come back. The therapist taught me new ways of learning how to do things and I am so grateful to them.
During my time there I made a great friend and we are still best friends to this day.
Huge strides since rehabilitation
In 2014 I finished my GCSEs and got really great results. I then went to Nescot College to study childcare for two years as I knew I wanted to pursue my dreams of working with children.
In 2016 I passed my course with a national BTEC diploma in Level 3 Childcare. I am currently doing a lot of babysitting and Mother's Help jobs where I live. I have a strong attachment with all the children and I really enjoy it.
I have known ever since I left TCT that I want to go back there and work there. I can sympathise and empathise with the children and I want to go back and help children recover. I know this is the perfect thing for me to do as I know how they feel.      
I have been helping TCT a lot lately and have been involved in a number of different things. I recently started driving lesson and am really enjoying it and I have started to write a blog about my driving journey for TCT website. I have been involved in a project - a book that TCT are bringing out about helping children to move on after their injuries. In the book I have given my advice based on my own experiences.
I was recently asked about being involved in a campaign. I am looking into volunteering at TCT until I can drive, then I would like to apply as a carer in one of the residential houses there.
I am so grateful to everyone who has helped me recover and it means so much to me that I can be involved with things that TCT help other children.
It was the neurologist in Southampton that saved my life but it's The Children's Trust that has given back my life. 
You can read Charlotte mum's experience here. This was written four years after Charlotte's brain haemorrhage and she explains the initial challenges and Charlotte's return to school. 
Charlotte was filmed making the speech above: