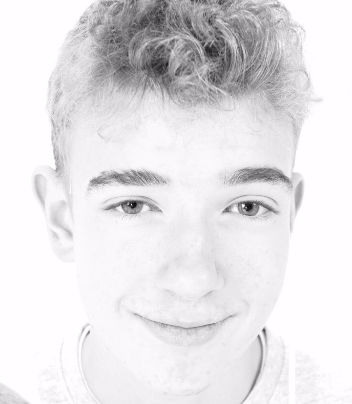 Published: August 2015. Date of brain injury: 2013 (child aged 14 years).
Chay, from Grantham, Lincolnshire, became ill over the May half-term holiday in 2013, with symptoms of a high fever and headache.
Samantha took Chay to the local GP three times concerned that her son had sinusitis.
On the third visit the GP agreed that he had sinusitis and commenced a course of antibiotics for Chay.
Still feeling that something was wrong, two days later Samantha took Chay to the local out of hours hospital.
In hospital
Chay was admitted into hospital and given a CT scan, which showed empyema (a collection of pus) around the brain.
This was then followed by an MRI scan, which showed that Chay had an abscess to his right frontal lobe.
He was transferred to The Queen's Medical Centre in Nottingham and was given a craniotomy to drain the abscess.
Samantha said "It was the longest five hours of myself and my husband's lives.
"Chay was covered in tubes and wires and we sat beside him all night.
"He went on to have a seizure the following day.
"We were completely numb; every day was just a blur." 
Life since the brain injury
After the brain injury, Chay's progress was slow to start with. Samantha recalls: "I was a complete nervous wreck over everything.
"Chay became agitated with too much noise, and he was extremely short tempered, although that could be his age."
Chay's family have been helped by having a fantastic brain injury nurse who is at the end of the phone if they ever have any problems.
She has also been there to help Samantha's other two sons, as the injury has affected the entire family.
Chay finally went back to school in the middle of September 2013.
"We were worried as he was a bright boy and attended the local grammar school so they weren't sure if he would cope."
Moving towards adulthood
In October 2013 Chay won an award for outstanding achievement due to adversity.
"He has coped really well already gaining an A at GCSE in ICT and English language.
"We are eagerly awaiting his GCSE results this August and Chay is hoping to go back to study A levels. Chay gets on with things and never thinks of himself as having had a brain injury, his short-term memory has been affected and he struggles with loud environments.
"While Chay hates to think that he has any lasting effects from his injury, his mother has noticed that he definitely has problems with short-term memory, and loud environments make him agitated."
Chay hopes in the future to go university. He has also just applied for a provisional driving license, which has not been easy due to the brain injury.