There are many recognised benefits – both emotional and therapeutic – to spending time with animals, and the young people at The Children's Trust School enjoyed a visit from Summer earlier this month.  
Summer's owner Vicky works as a physiotherapist at The Children's Trust School, and Summer has had previous experience visiting a variety of settings as a therapy dog. On-site visits from external companies have unfortunately been limited in the last year due to the COVID-19 pandemic, and as a result the young people in school have had limited opportunity to access leisure experiences involving interactions with animals.
Following discussions with the Infection Control team, it was agreed that Summer could be brought on site to meet the young people, with measures in place to keep all those involved safe including regular hand washing, use of personal protective equipment, completing the visit outdoors and ensuring that young people and staff attended with others from their 'bubble'.
Summer and the children loved every second. It was felt that Summer had the potential to not only provide emotional benefit to the young people but also to be a motivating tool to incorporate into therapy-related tasks.
With assistance from the wider therapy team, a variety of activities were integrated into the day including supporting the young people to stroke her, brush her, track her movements and anticipate her responses.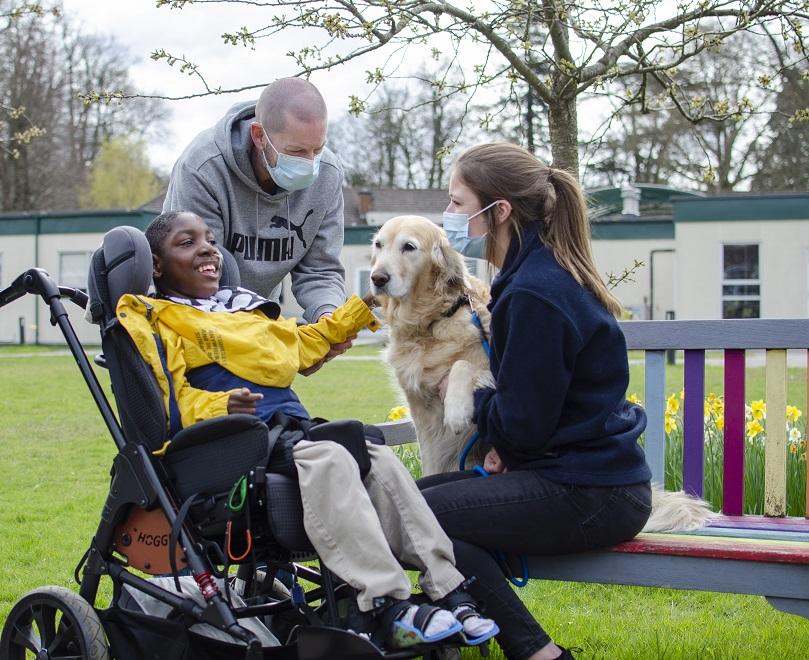 Some of the young people worked on their grasping skills in order to hold a ball, then practised throwing it or releasing it down the Boccia ramp (a game similar to bowls and pétanque) to play a game of fetch with her.
Others had the opportunity to hold the lead and take Summer for a walk either in their wheelchairs or in their walkers.
And lastly, communication was promoted throughout the visit through use of visual aids, Makaton signing and choice-making, such as the choosing the colour of the ball.   
Vicky, physiotherapist, said: "Summer is very people-oriented, so this visit was as enjoyable for her as it was for the young people – although she did require a nap in the office over lunchtime!
"Her calm and friendly temperament was helpful when giving the young people the opportunity to get up close to her, but equally she will chase a ball with enthusiasm, which gave a nice response for the young people to observe.  
"It was wonderful to see how interested the young people were in her and great to be able to incorporate our therapies into the day, as well as seeing the emotional benefit Summer provided to both the young people and staff."