Here are a few simple sensory activities, which have been shared with us over the years. Most of these can be enjoyed outside if the weather allows. Please always supervise young children during sensory play and adapt to each child's individual abilities and needs.
Scented play dough
Many children enjoy the feeling of play dough between their fingers, creating models and forming shapes. Making homemade play dough is a great way of extending the experience. You can add smells by using a squeeze of fruit or essential oils. Or, why not create textured play dough using porridge oats, seeds or glitter?
Rainbow bubble foam
Bubble bath, water, food colouring and a hand mixer are the key ingredients for this colourful activity. A storage tub, tuff tray, sand tray or a baby bath can be used for children to explore the foam bubbles, make pretend ice creams or wash their toy cars.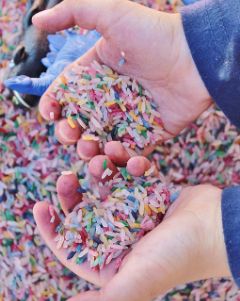 Volcano eruption
This is a fun activity for older kids and toddlers alike. The ingredients are things that you will probably have in your kitchen, such as vinegar, bicarbonate of soda and washing up liquid. CBeebies provide all the instructions, as well as a video showing the final result of an erupting volcano creation.
Rice play
Coloured rice can be kept for years. All you need is vinegar, food colouring and rice. Rice play supports fine motor skills and encourages eye-hand coordination. You can add cups, pots and pans and kitchen utensils to rice play to allow children to use their imagination. You can also use empty plastic bottles to make shakers.
Other sensory activities
Sometimes the most simple ideas prove to be the most effective when it comes to creating engaging activities for children, such as:
Making music and sounds with pots and pans
Car washing with toy cars and a bucket of soapy water
Washing dolls or cuddly toys
Cookie making, allowing children to help make the cookie dough and place on baking trays
Painting, creating hand and footprints
If you have any ideas to share with us, please get in touch.