The children and young people at The Children's Trust school and rehabilitation centre at Tadworth Court will be enjoying a week of activities and celebrations. Keren Holding, Leisure and Activities Coordinator, says:
"The children and young people will be researching, planning and preparing for our Big British Jubilee Tea Party on Wednesday 1 June. They'll be making decorations including bunting and flower jars for the tables, plus looking up cake recipes, shopping for the ingredients and baking them to share at the party.  There's also going to be fun sensory sports and challenging games; face-painting, glitter tattoos, music, bubbles, crown-making and other crafts, plus a visit from some Shetland ponies!"
Here's our roundup of some great craft ideas and activities, which you might like to try out at home.
Ribbon wands
These DIY ribbon wands are good for encouraging motor moves and the swirling ribbons are great for sensory play.  Lots of fun for outdoor play and to brighten up your Jubilee party! 
Here's what you will need to make them: wooden dowel rods and 1 x screw eye (from a hardware store); 2 x split rings/key rings; ribbons; 1 x small safety pin.
Visit this blog for step-by-step instructions on how to make the wands.
Yarn hearts (and bunting)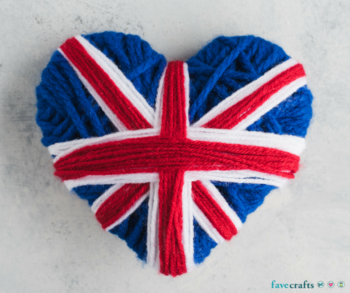 Crafts like weaving with wool are not only great fun, but the experience of creating something and the satisfaction in completing a task helps build a child's confidence.
You can even string these cheerful hearts together to make bunting for a special Jubilee celebration!
Here's what you will need to make them: red, white and blue yarn (light, medium or bulky weight); cardboard; scissors; a cardboard heart template; pen or pencil; tape (optional); yarn needle
Watch this video on Fave Crafts' Facebook page to see how to make the yarn hearts and bunting.
Castles, crowns and windmills
There are also lots of websites featuring a wide range of Jubilee and royal-themed ideas.  Here are five of our favourites:
A paper crown template that you can colour in and construct.
Finger-painting flags.
Wondrous windmills.
A DIY castle from a cardboard box.
A red, white and blue sensory tub.