National Doughnut Week is celebrating its 30th year of supporting charities through bakeries across the UK. Since the campaign started supporting The Children's Trust 15 years ago, it has raised £469,050 to support children with brain injury and neurodisability.
The week was launched by Christopher Freeman in 1992. As a co-owner of Dunns Bakery, he wanted to use his baking skills to raise money for those in need. As of this year, National Doughnut Week has secured over £900,000 for UK charitable causes.
Bakeries, cafes, delis and coffee shops across the nation will take part by selling doughnuts and giving 100% of the profits to The Children's Trust. 
Anyone can get involved by treating themselves to a doughnut from any of the bakeries listed here. Offices and schools can also take part by registering and receiving a free pack of goodies to help with their own doughnut sale to help children with brain injury.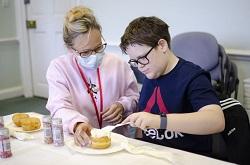 Young people at The Children's Trust have been preparing for this week for a while! For enrichment week in June, Dunns Bakery delivered doughnuts to the site in Tadworth. The children had a great time decorating (then eating) them! In the residential houses, Daniel baked sweet treats of his own, and sold them to raise money for the occupational therapy kitchen equipment. He even invited The Children's Trust's CEO Dalton Leong to invest in his business!
After National Doughnut Week was cancelled last year due to COVID-19 restrictions, its sponsors CSM Ingredients are hoping for even more support this year. Cristiana Ballarini from CSM said: "It's been a tough year for charities, which is why we want to raise as much money and awareness as possible for The Children's Trust, a truly deserving charity that do some remarkable work for young people and their families."