Frequently Asked Questions to help you with your marathon journey for The Children's Trust. 
Please also visit the Virgin Money London Marathon site for general information about the marathon, training and nutrition. They have some excellent information on there. 
If after reading this page you still have a question, then please do contact the Events Team: we'd be only too happy to help. You can get in touch by email or by calling 01737 364 329. 
---
I have a guaranteed place on The Children's Trust team. How much do I have to raise, and by when?
You have committed to raise a minimum of £2000 for The Children's Trust. We ask that you have raised £500 by 1st July and then the balance is in no later than six weeks after the event. The £2000 target does not include Gift Aid. 
If you are an own place runner, you do not have a minimum target: we just ask you to raise what you can. 
Should I set up an online fundraising page? 
This is the best way to get started with your fundraising. We are listed on both Virgin Money Giving and JustGiving. Any donations made by your sponsors come directly to The Children's Trust and both sites claim gift aid on our behalf. 
You can personalise your online fundraising page to share why you are running, and you can also keep your page updated with your training progress. You can upload photos of your medal once you have completed your marathon – this may prompt some further well-deserved donations! 
If you raise any money offline you can also add that to your page total so your supporters can see how well you are doing with your fundraising. 
Top tip: Ask someone generous to make your first donation and send out your page link around pay day.
Follow this link to set up your Virgin Money Just Giving page.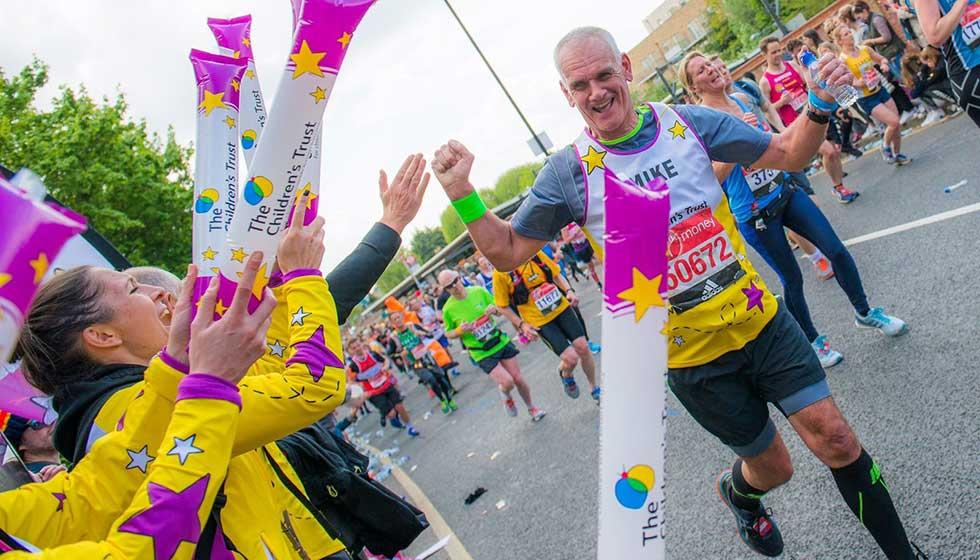 How can I pay in sponsorship money? 
You can pay money directly in to our bank account. Remember to put "LM21" and your name as a reference. 
Account Name; The Children's Trust 
Bank Name: Lloyds Bank
Sort code: 300002
Account no: 04026204
Ref: LM21 (and your name)
You can send cheques to us at The Children's Trust, Tadworth Court, Tadworth, Surrey, KT20 5RU. Cheques should be made payable to The Children's Trust. Please do not send cash in the post. 
What happens if I can't reach my fundraising pledge? 
We're here to support you with your fundraising as much as possible, so do get in touch with us by emailing [email protected] or call us on 01737 364324
Not reaching your sponsorship pledge impacts on the work of The Children's Trust and our support of the children in our care, so please ensure you are confident in reaching the £2,000 target before signing up to the event. 
Don't be overwhelmed: think about cutting the £2,000 sponsorship down in to smaller amounts and aim to raise a set amount at a time.
Do you have any ideas to get me started?
Here are 10 ideas to help you smash your target!
Enquire whether your employer will donate or will match fund any money you raise
Get your pals or work colleagues involved
Ask for contributions to your fundraising instead of birthday or Christmas presents
Hold a "Guess my marathon finish time" sweepstake – download your kit here.
Host a bake sale
Hold a movie night
Stream your gaming
Host a curry and quiz night
Host a marathon party
Update your fundraising page regularly, especially when you hit  key milestones and post marathon
Why do I have to raise a minimum sponsorship pledge? 
We invest in places in charity events so it is important that we ensure we raise as much as possible to support our vital work for children with brain injury and neurodisability.
I want to approach some local companies for prizes and donations. Can you provide something to tell them I'm an "official" fundraiser?
Yes, of course. We will send you a "letter of authenticity" in your welcome pack. 
I'm planning on holding some events – do you have any branded materials I can display? 
Yes. We can supply collection boxes, stickers, balloons and t-shirts. These can all be ordered free of charge via our online shop . 
Do also take a look at the Hold Your Own Event section on our website for some ideas on how to fundraise and how to do it safely and legally. 
I'm injured or can no longer participate – what do I do?
If you're no longer able to take part, please let us know by emailing [email protected]. Please tell us if you want to withdraw completely or defer to a future marathon. The sooner you are able to do this, the better, as we may be able to offer your place to another runner on our waiting list. 
If you secured your own place in the event, you'll need to withdraw directly with the Virgin Money London Marathon.
I'm no longer taking part: do I get a refund on my registration fee? 
Unfortunately not. Registration fees are non-refundable.  
How will my fundraising help The Children's Trust? 
The Children's Trust is the UK's leading charity for children with brain injury. We deliver rehabilitation, education and community services through skilled teams who work with children and young people, and their families, across the country.
"Every day was like a marathon for me, but I never gave up" 
Alby was tragically hit by a car and left with a severe brain injury. The Children's Trust helped Alby learn how to walk again. By running for us you're helping children like Alby across the UK. 
Every step you take, every penny you raise, we'll make it count. You can read more stories about the children you are supporting in the "Children's Stories" section of our website. 
I'd love to find out more about the work of The Children's Trust: will there be opportunity to do that?
We usually like to offer site tours to our Squad of runners. However, at the time of writing (January 2021) it is not possible. Instead we will host a virtual site tour for our team in the Spring, where we will be joined by a therapist and a family supported by The Children's Trust. You will get to meet your fellow Squad members and we can share fundraising and training tips. Please keep checking our emails for more information. 
When will I receive my Children's Trust running top? 
Your running top will be sent to you in the summer. If you'd like a top to train in sooner than that, just let our team know. If you'd like to personalise your top with your name or nickname (we strongly advise you to do this, so that you get loud cheers of encouragement on race day!) we will send some iron-on letters for you to add to your top above our logo. 
Can you support me with my training? 
The Virgin Money London Marathon and Runners World both have some great training plans for all levels, from beginners to experienced marathon runners. These plans are a 16 week plan but it is a good idea to build up a basic level of fitness as soon as your place is confirmed. This will mean you are less likely to pick up injuries as you go along. 
Make sure you do a range of exercise, not just running, to build up strength and stamina – and to keep training a bit more varied.
You may also want to: 
Join a local running club – these can be an excellent source of support in your marathon journey. 
Enter training races: Enter a few 10k or half marathons to test out your plan for marathon day. It's not just about running but about trying out your kit, pre-event fuelling, and nutrition. 
Get the right running kit: You'll be running hundreds of miles in training so it's definitely worth going to have your gait analysed and finding the right trainers for you. It's not just your footwear that's important: you need to get the right kit from head to toe, and for all weather conditions. Make sure you train in what you will be wearing on marathon day: don't wear anything new on race day. 
Nutrition: Preparation is the key to an enjoyable race day experience, and when it comes to nutrition, preparation can mean the difference between achieving your goals or not. Take time to work out what food and fuel works for your body: what works for your running mate, may not suit your body. 
Stretching: Stretching before and after a run, especially in the cold weather, is really important. Skip a stretch and you may well regret it in the long run when injury creeps in. 
Managing injury: Do read up on how to prevent injury and if you do pick up a niggle, don't ignore it. Find out how to identify and treat some of the most common running injuries.
Training events: We hope to be able to organise a couple of training events prior to the marathon. This will depend on Covid-19 restrictions and government guidance.
I have registered on the console; do I need to do anything else? 
Yes. Later in the summer you will receive an email from the London Marathon asking you to complete a pre-registration form. Once complete, you will receive an email that includes your running number and a QR code. 
You then need to attend the London Marathon Expo (dates, times and venue tbc) so that you can collect your race pack, including your running number and chip. You will need your QR code for this. If you do not collect your ID you will not be able to run. 
You can nominate someone to collect this for you. They will need your QR code and a copy of your photo ID and theirs. 
Will the London Marathon send any more information about race day?
Yes. In September you will receive a "Final Instructions" booklet by email. The Final Instructions booklet contains all the information runners need to have an enjoyable marathon day.
How do I get to the start line? 
It is down to each runner to plan their own journey to the start line. Do take time to check train times and journeys in advance of race day. Allow plenty of time. Be warned: sometimes TfL plan engineering works on marathon day. 
Are you providing any transport to the start? 
If you live close to The Children's Trust national rehabilitation centre in Surrey, you can book the complimentary coach to the start (as everyone completes the marathon in different times, we do not provide a return journey). If you have friends running they can join you on the coach for a donation of £16. A link will be sent to you nearer the time to book. 
Approximate timings:
Depart: 6:45am from The Children's Trust, Tadworth, KT20 5RU 
What are the timings for marathon day? 
In previous years the timings have been as below, however we expect some details may change due to plans to make the event Covid-19 safe. 
We suggest runners arrive to the Start at least an hour before their wave time. This will allow you plenty of time to warm up, hand in your kit bag, use facilities and head to your start pen.
Children's Trust Squad photo: 8.30am near Red Start Arch Entrance. Situated on the green at the top of The Avenue, past the Royal Observatory (plenty of toilets nearby) 
Kit bags: Hand in kit bags by 9:15am (put the label from the Expo on to your kit bag in advance)
Race time: From 9.30am – Staggered start, first start wave around 9.40am
My friends and family want to come and support me on race day – will there be Children's Trust cheer stations? 
We certainly hope so. We haven't been advised by London Marathon Events yet as to whether we will be able to set up cheer stations along the route. There may be restrictions on this due to the Covid-19 pandemic. 
If we are permitted, you can be sure that our cheer squad will be out and loud along the course. We usually have cheer stations at miles 13, 17 and 22. Your friends and family are very welcome to join us at any – or all – of these cheer stations. If they'd like to be a "roaming" cheer station, just let us know and we can provide them with Children's Trust t-shirts, balloons and clappers.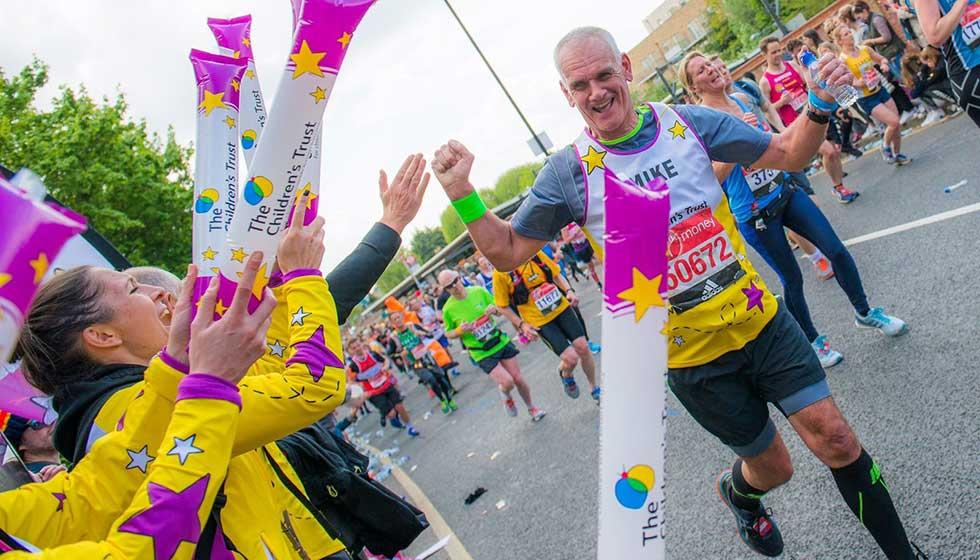 Where is the best place to meet up with my friends and family after the event? 
The London Marathon finish line is very busy so, in previous years, the London Marathon have hosted a "repatriation area" in St James' Park. The area is split into sections from A – Z and you can arrange to meet family by a letter. Phone signal can be patchy and it can be difficult to reunite with loved ones. 
At the moment we don't know what the repatriation arrangements for 2021 will be. 
Will you be hosting an after-party? 
Again, we hope so. If government guidelines allow, we look forward to welcoming you to our after party at the Piccadilly Institute located a short walk from the Duke of York steps near the finish line. Here, you will receive a warm welcome, post-race massage, drinks and food. It is also a great place to meet up with friends and family.